How to Prepare for a Graduation Portrait Session
Are you looking to get started in preparing for your graduation portrait session? It's an exciting process, and I can't wait to work with you soon! In the meantime, I've compiled a list of tips and suggestions to help you get ready for your photo shoot!
Throughout the years and the over 600 sessions I've done, I've accumulated a wealth of experience planning highly successful shoots, something I would love to share to help you in advance.
---
tips to help you prepare
1. Consider Bringing Along A Few Props For Some Added Fun!
I would highly recommend bringing a few interactive props as they can add quite a bit of fun and variety to the session. Some props that I recommend include bubbles, custom balloons, confetti poppers (biodegradable), and a bottle of champagne!
For my full guide on props, see my graduation props guide!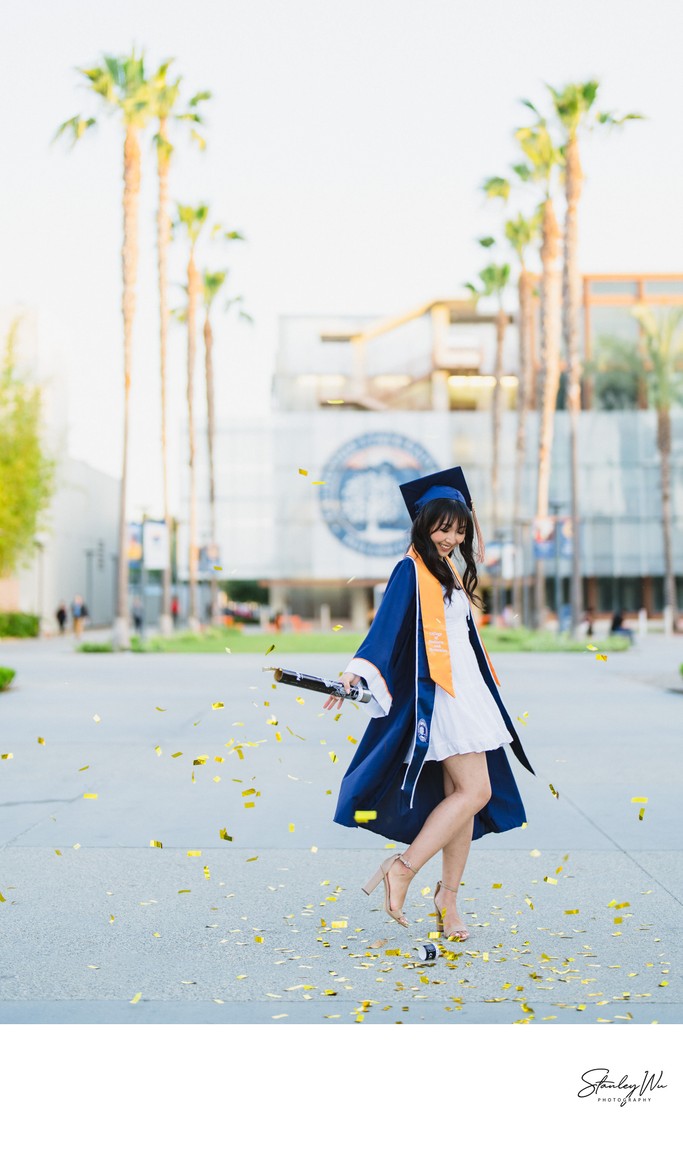 2. Put Together A Mood Board!
Have a specific idea or look in mind? I'd recommend taking the time to put together a Pinterest board. Feel free to look throughout my previous sessions on my blog, Instagram, or Pinterest for ideas others have done in the past. You can also fill out my questionnaire before the session with any special ideas you'd like to try, and we'll refer to that during our shoot.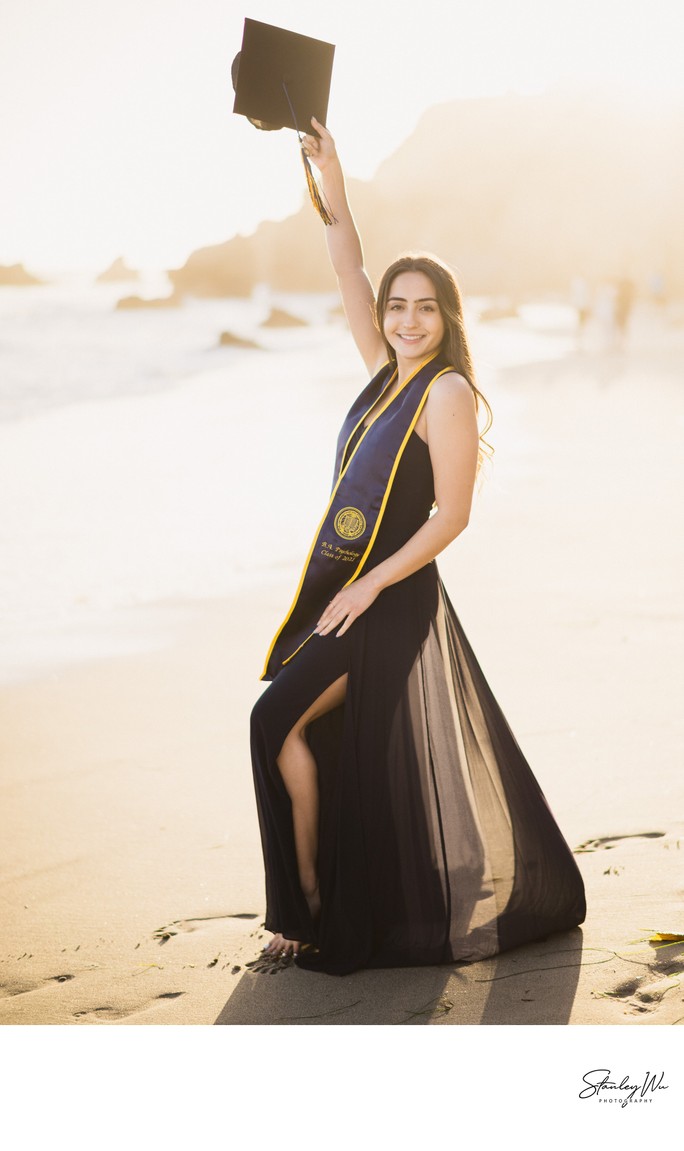 3. Hire A Professional Hair And Makeup Artist!
If you are already an expert in doing your hair and makeup, then that's perfect! If not, since you are already investing so much time and energy into a portrait session, I would highly recommend getting professional hair and makeup. After all, it's your glam day, and I think it makes the most sense to go all the way! If you would like a referral, I have a referral list that I can provide after booking.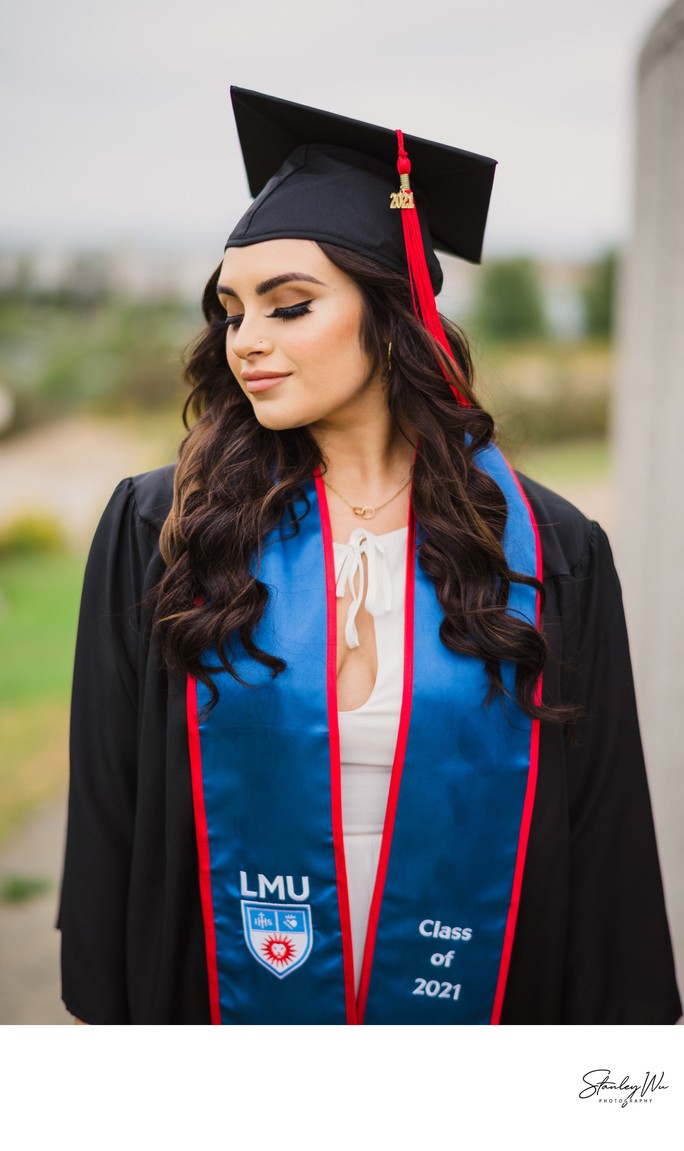 4. Get Lots Of Rest!
An often underestimated factor in preparing for a photo shoot is self-care. Getting plenty of rest beforehand is vital to feeling refreshed the day of. Keep hydrated and eat well to give your skin a healthy glow. I would also avoid scheduling your shoot or planning anything stressful (final exams, job interviews) consecutively, as you may not have enough time to rest or feel entirely present during the session.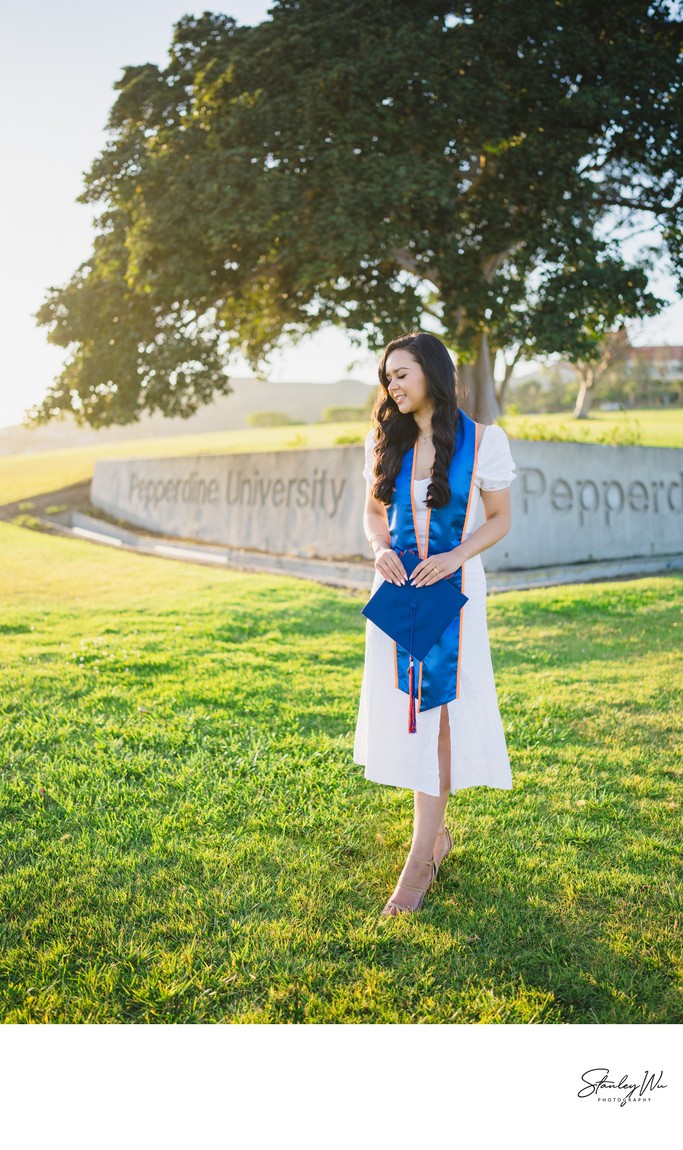 5. Arrive Early To Your Shoot!
It's best to give yourself plenty of buffer room to take it easy and keep a relaxed pace before your shoot – after all, you wouldn't want to rush to your shoot because there was unexpected traffic or if you couldn't find parking. Be sure to arrive early, especially if you are unfamiliar with the shoot location. It is always better to be early than to be late and miss out on part of the session time that you booked.
I would also recommend mapping out your commute in advance with similar traffic conditions prior to the session. If you're from out of town, just know that rush hour here in Los Angeles is no joke! (Rush hour is generally 6am to 10am, 2pm to 8pm)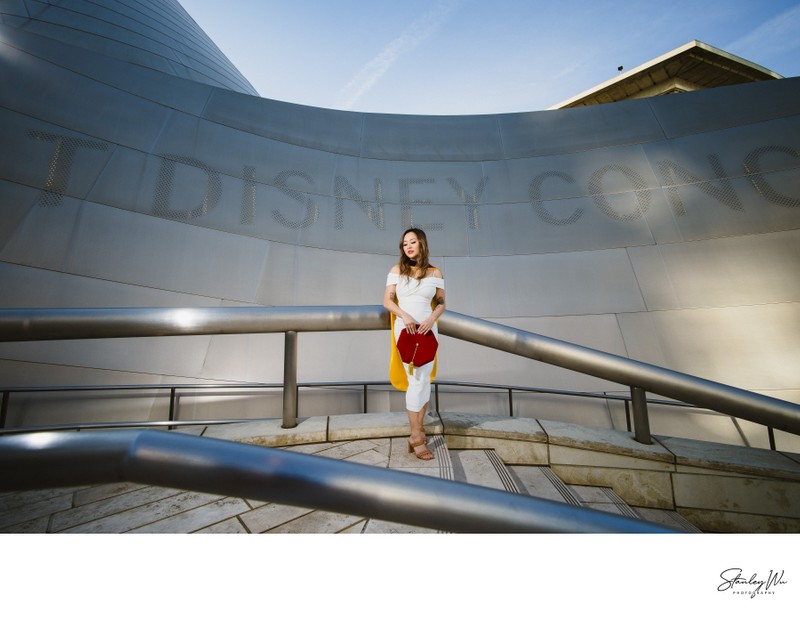 ---
Graduation portrait Outfit recommendations
If you are still deciding what to wear, here are my personal recommendations based off my experience as a photographer.
1. Wear Light colored outfits for a classic look
For a timeless and classic look, outfits with light colors and tones tend to work well, as they will never go out of fashion. Graduation is a joyous and celebratory occasion, so I'd aim for bright and uplifting colors to match!
One reason to go for light colors and tones is to contrast your graduation sash and apparel. Your graduation sash and robes will typically be much darker or feature intense colors – it helps to have a lighter base to contrast and highlight the school colors that you might also be wearing on top.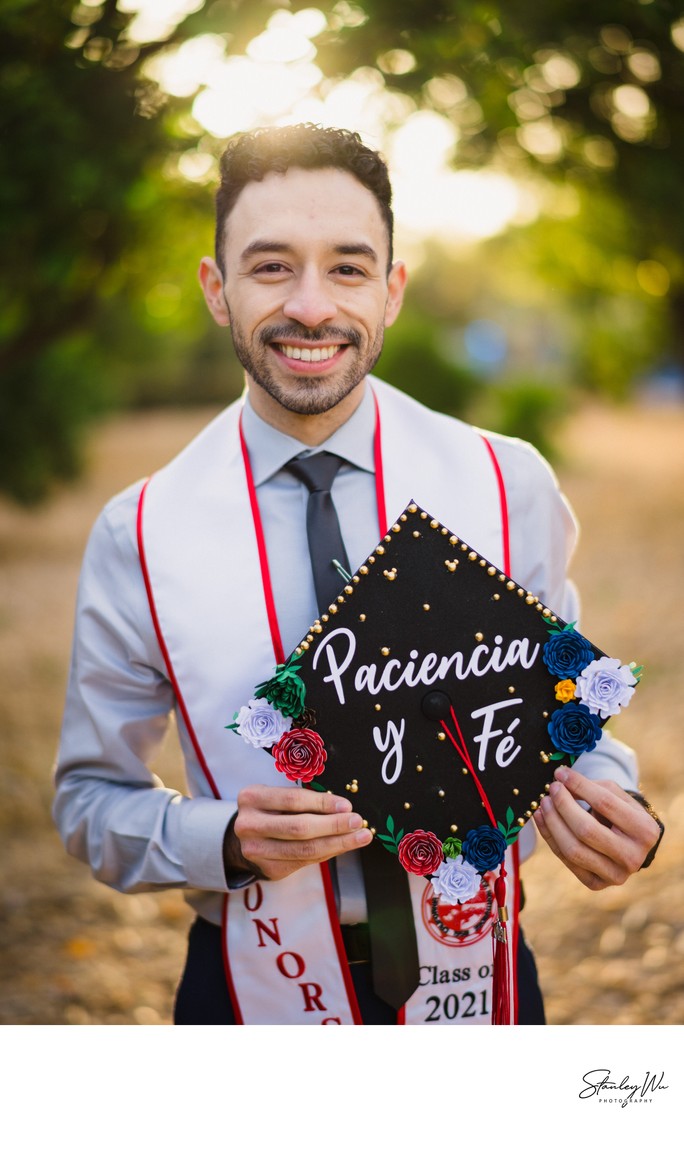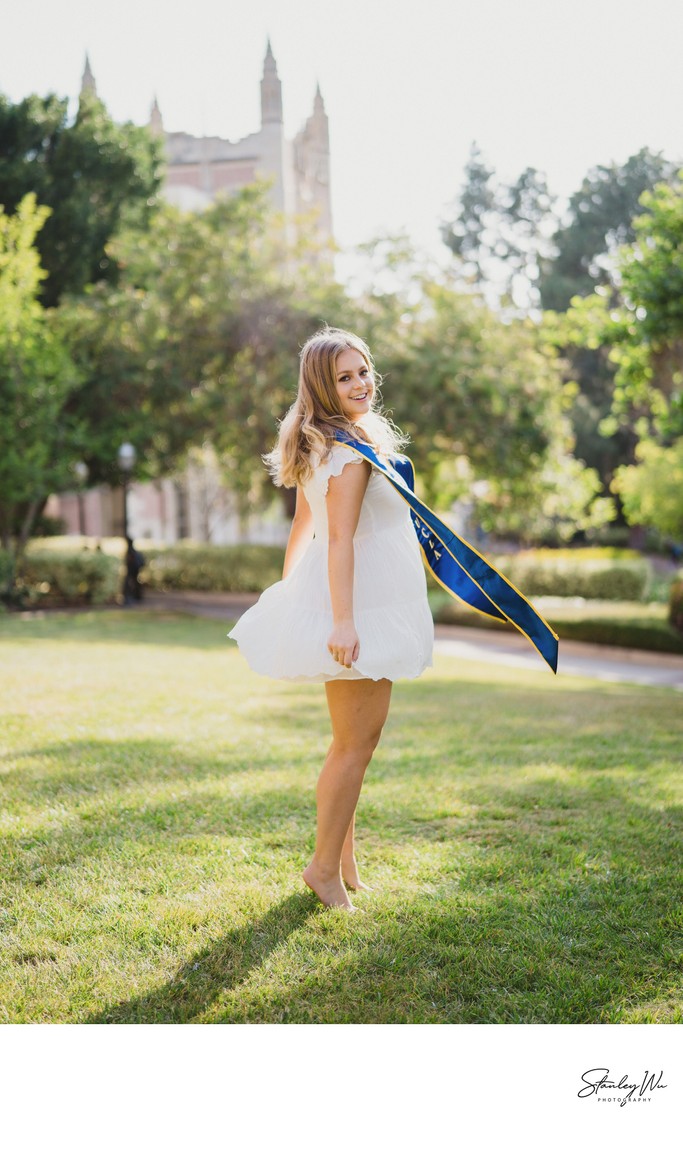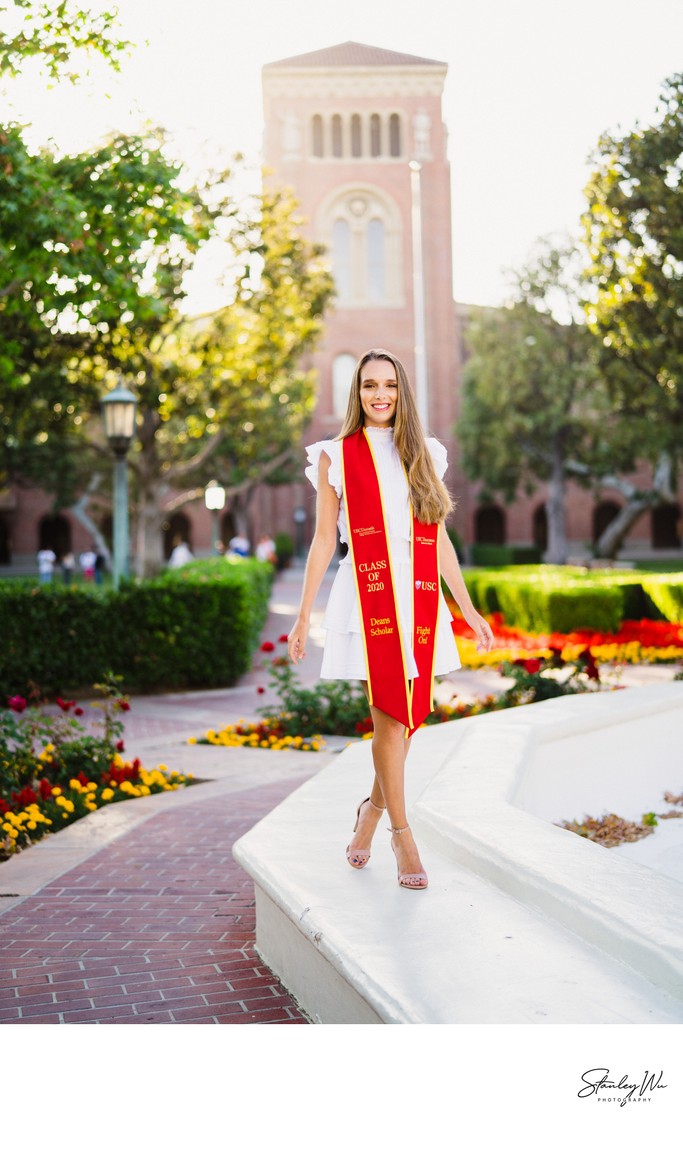 2. Wear vibrant colors for a bold and dramatic look
Feeling more colorful? You can consider wearing bolder colors for a high-contrast or editorial look. You can also consider a more dramatic outfit, such as a flowy dress. Make sure the outfit complements the location, setting, and other elements you may want to include, such as a graduation sash or specific props.
Not sure between a classic bright look or a bolder and more dramatic look? Consider having two outfits! Depending on how much time you booked, we may have time to do a quick outfit change in the middle.
If you are scheduled for a daytime session, you can also consider extending part of it into the night for some ultra-dramatic night portraits.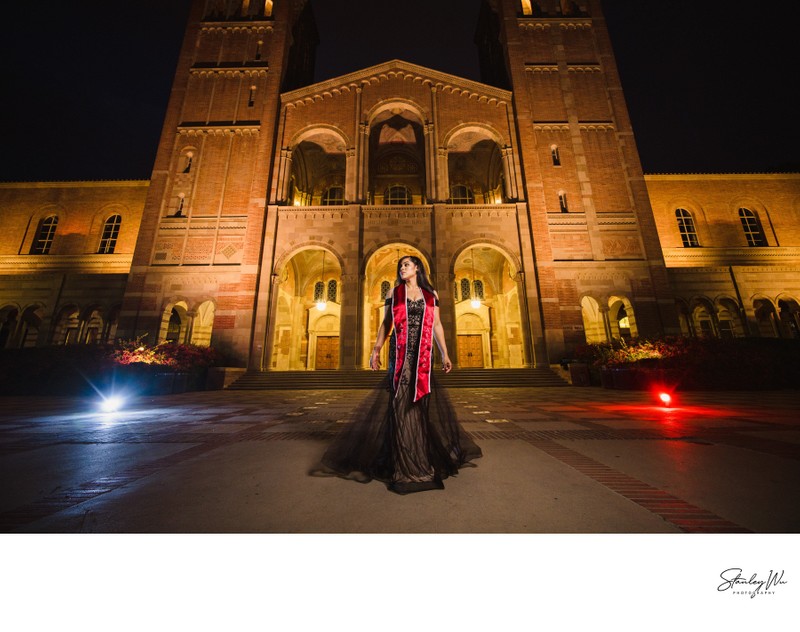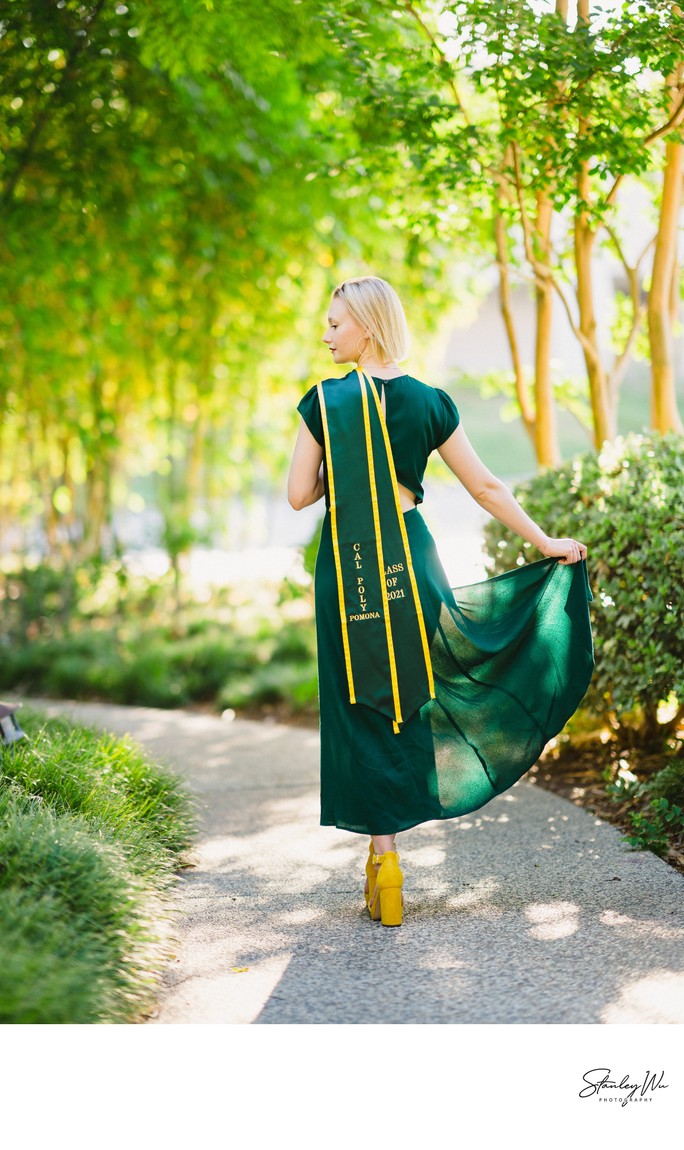 3. Avoid busy patterns for your outfits.
If you're deciding between a few outfit types, I would suggest avoiding busy patterns or mismatched colors, so they don't unnecessarily draw the viewer's attention away. The outfit should simply be something that complements you.
If you have a specific patterned outfit you would like to wear, consider having it as a secondary outfit or book a separate mini session for it.
4. consider bringing your traditional or cultural outfits
If you have any personally-significant cultural or traditional outfits, I would encourage bringing them to represent your background! You can consider bringing this as a secondary outfit.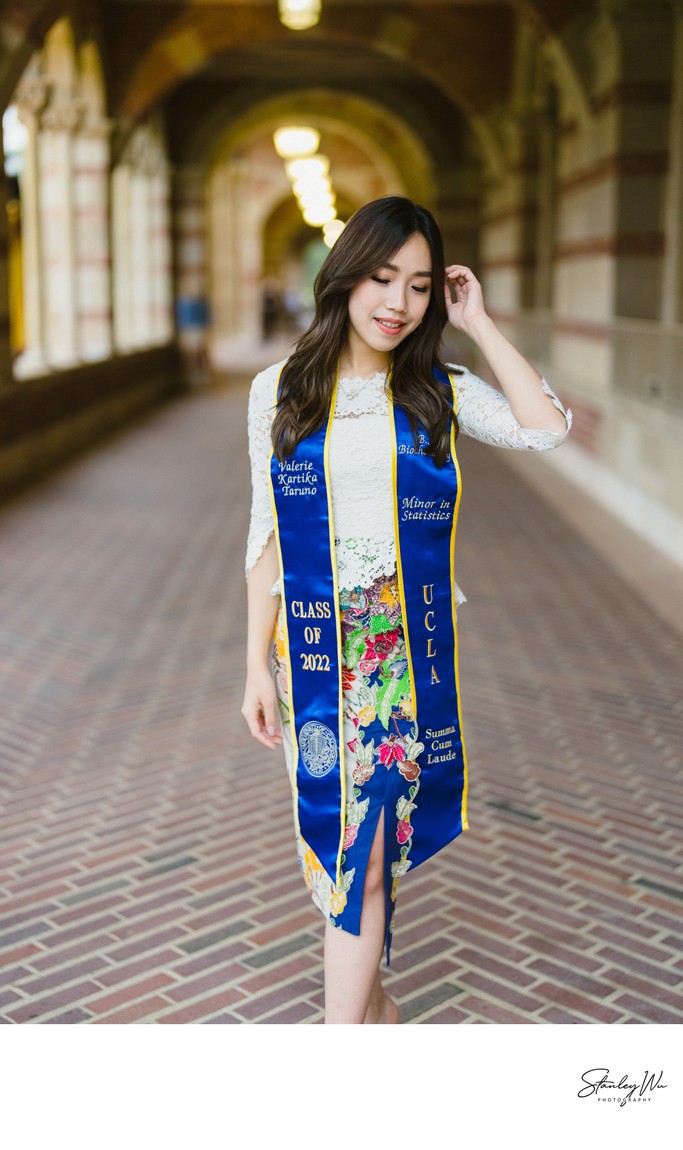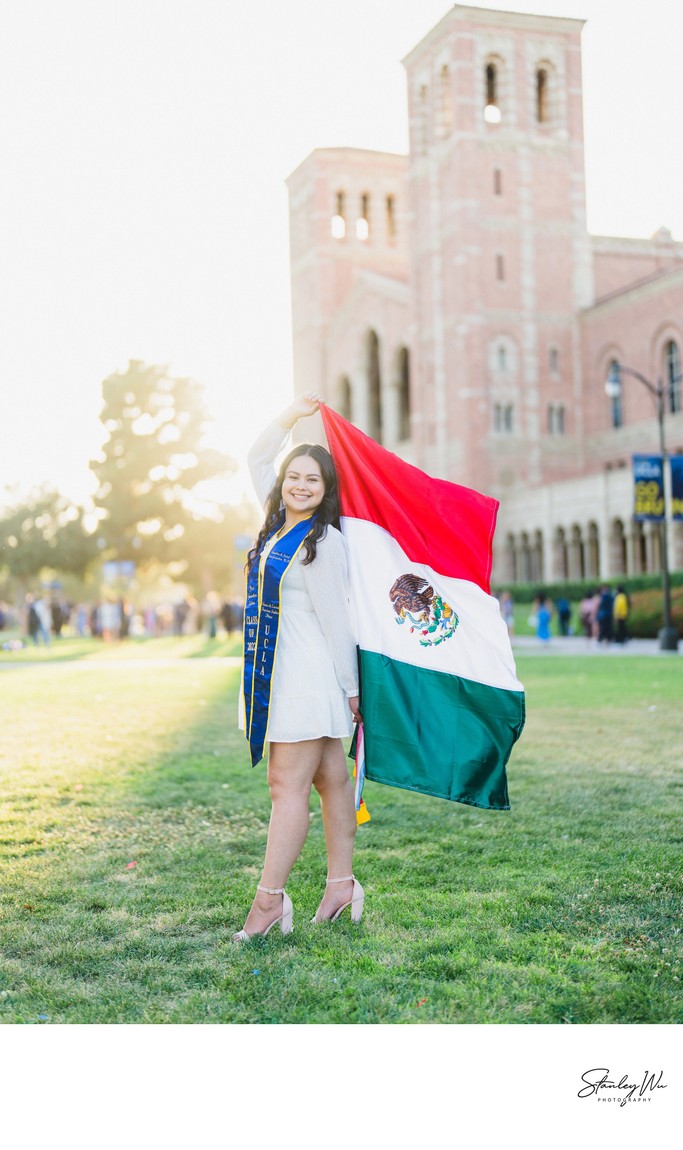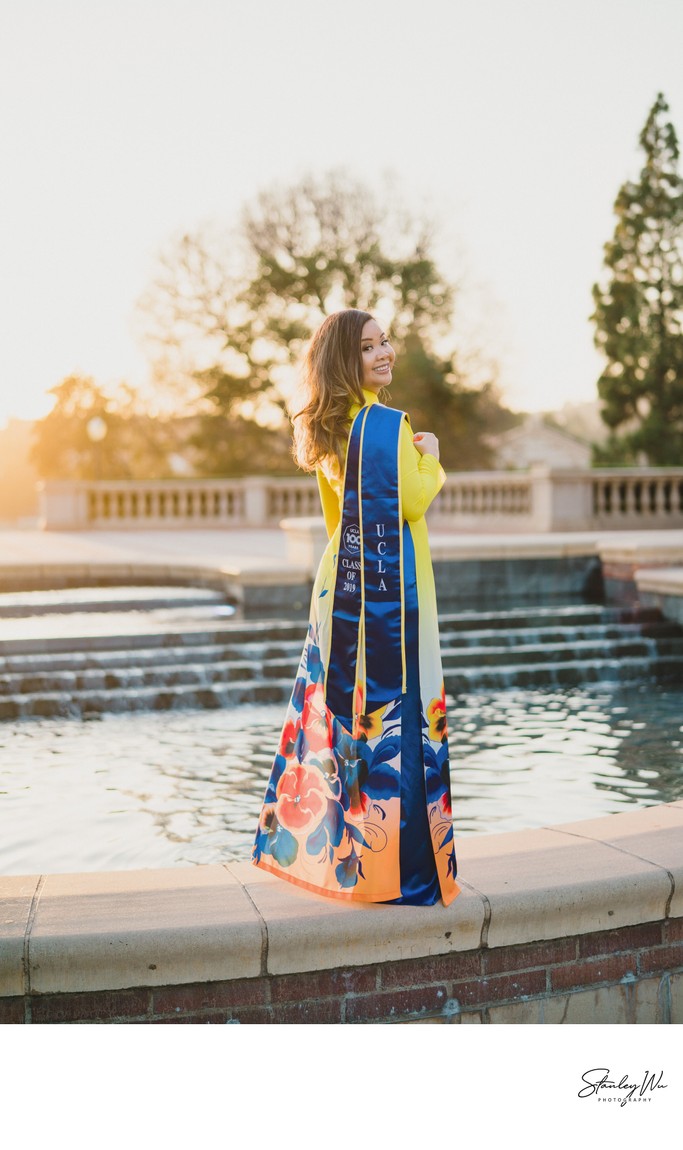 5. Bring your collegiate apparel for a quick additional look.
Bringing a school sweatshirt brings an easy additional look to your graduation portrait session. It provides a more casual, equally relevant look that can show off your school spirit.
A great thing about this look is that you don't necessarily have to make a whole outfit change when you can simply toss it over your original outfit.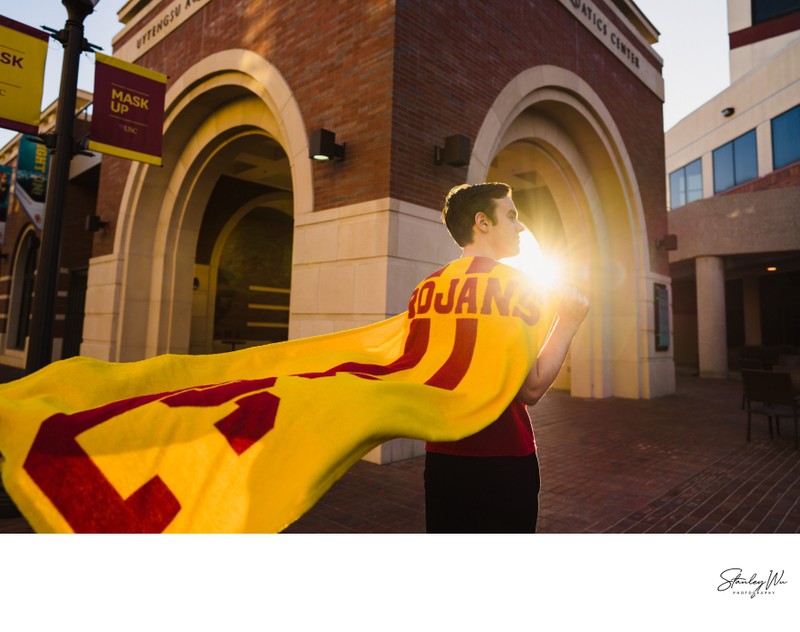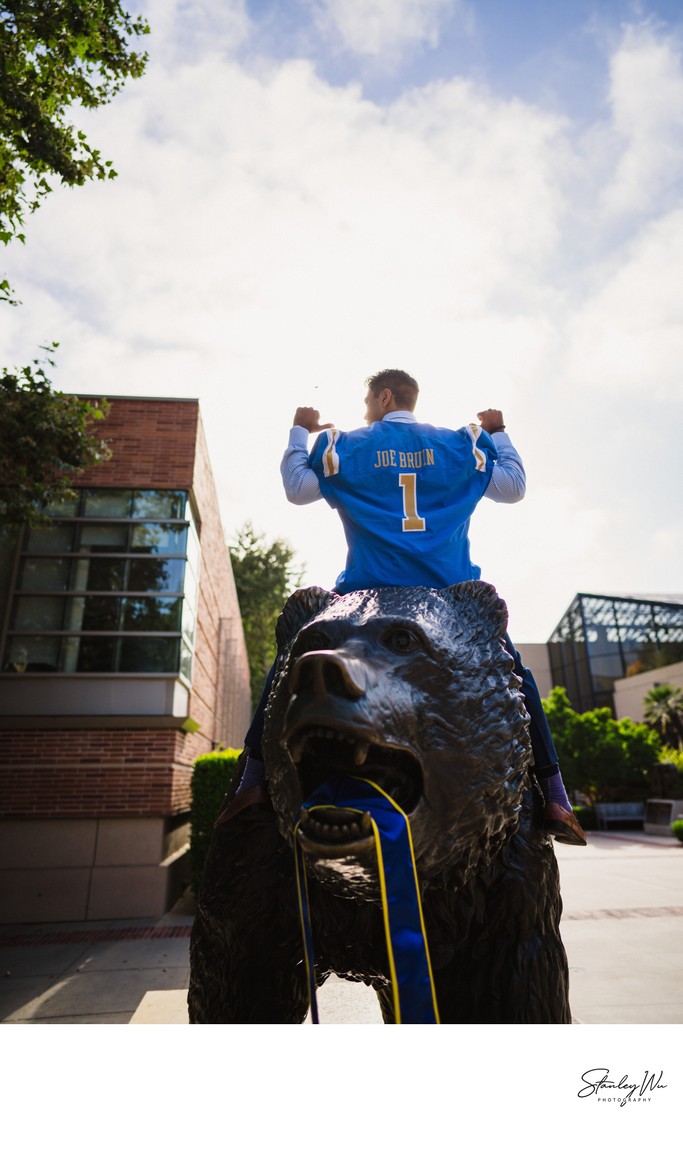 6. Wearing high heels? Bring a pair of flip-flops to save your feet!
If you are wearing high heels, don't forget to bring an additional pair of comfortable walking shoes or flip-flops (most compact) for walking from location to location. Most college campuses or session locations will feature iconic spots that may involve a bit of a walk in between.
You are welcome to wear any high heels, but remember that some types are more challenging to put on and take off. Lace-up heels are a notable example of footwear that look stunning, but might require quite a bit of resolve to be in them for two hours continuously if they're uncomfortable.
All in all, I would recommend choosing footwear based on comfort in addition to looks.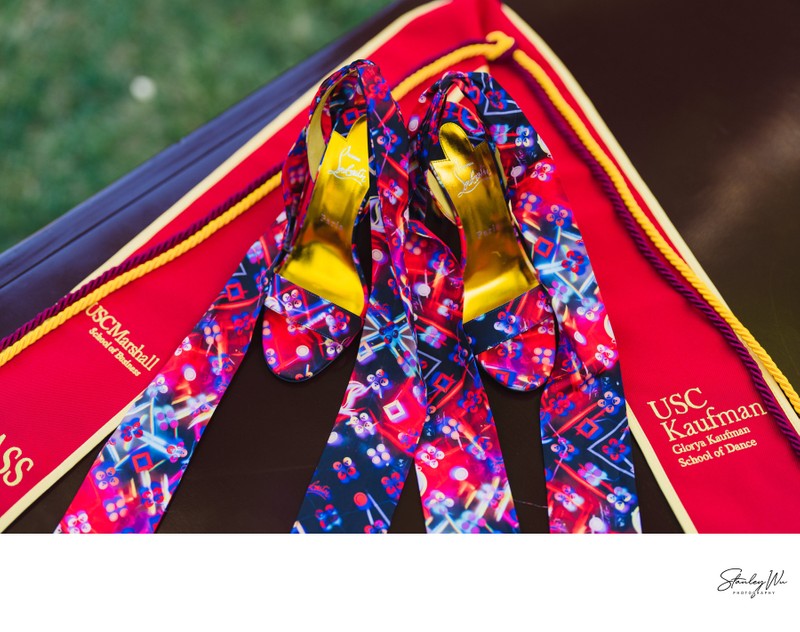 7. Keep all apparel and outfits wrinkle-free!
Depending on who provides your graduation apparel, you may need to do a bit of steaming to eliminate any wrinkles that might have been present in your outfit. This especially applies if you've just received your outfit in the mail or from the bookstore – do not wait until the night before the shoot to take your sash or robe out from the package. They will likely have prominent fold lines from having been in the packaging for so long.
The best way to ensure your outfit looks picture-perfect is to send it in for dry-cleaning!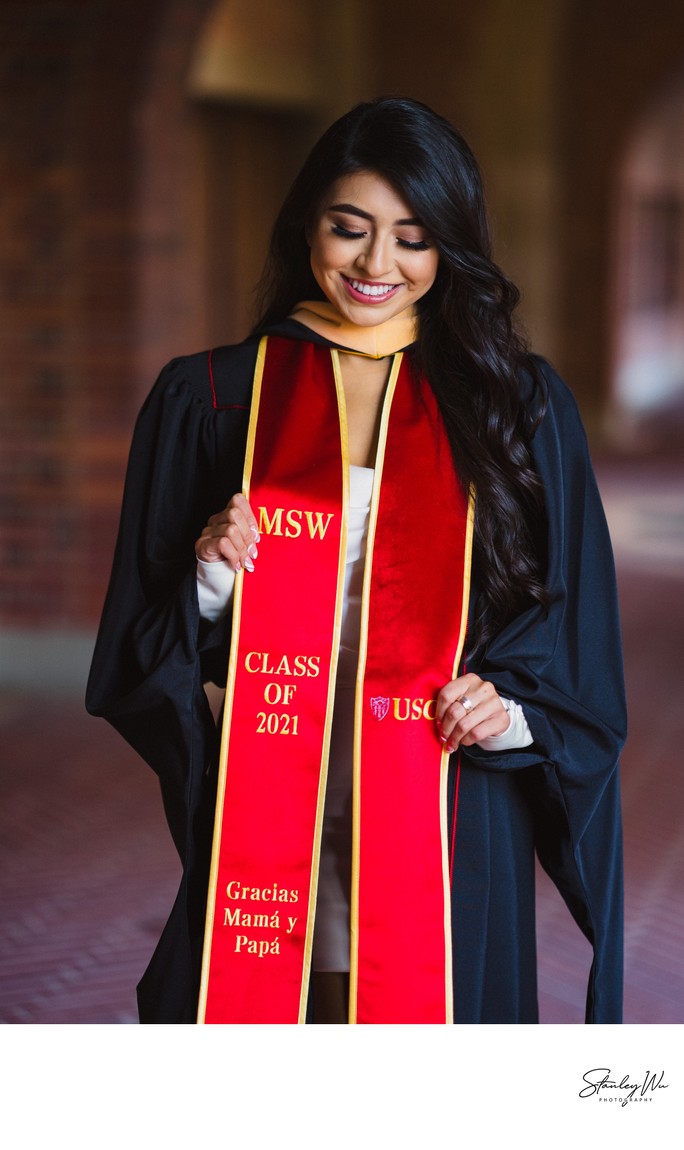 ---
Haven't hired a photographer yet for your graduation portrait shoot? Visit my grad page to learn more about how I can help you create the best graduation photos to help you and your family celebrate the occasion.