Los Angeles Engagement & Proposal Photographer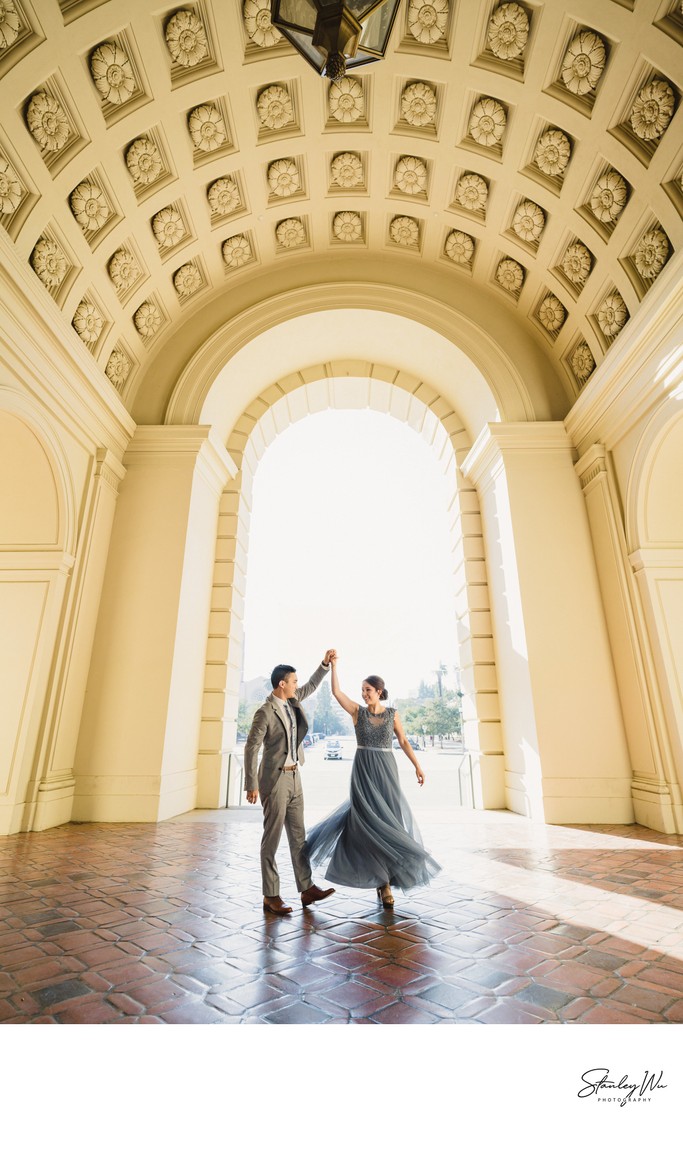 For more portfolio content, visit my engagement portfolio page.
My name is Stanley, and I am a portrait and wedding photographer specializing in proposal photography, engagement sessions and pre-wedding photos that document and show the love between you and your lifelong partner.
My couple's portrait photography style utilizes iconic landmarks, breathtaking scenery, and magical light to tell your tale of love and emotion. My goal is to create one-of-a-kind engagement photos & pre-wedding portraits that help create stunning centerpiece portraits you can display at your wedding and produce a modern gallery album that you can highlight to your friends, family, and guests.
Engagement photographer
Engagement sessions are a wonderful way to celebrate the commencement of your lifetime together. Couples getting married usually sign up for engagement sessions to create new memories that mark the occasion, make announcements of their engagement to friends and family, and frame their beautiful portraits as art pieces to display at their wedding and future home.
Pre-Wedding Portrait Photographer
Pre-wedding portraits are similar to engagement sessions in that they are couples' portraits and typically take place before the wedding. They differ in the purpose – whereas engagement photos are used to announce the engagement, pre-wedding photos exist to further highlight the main event – your wedding. Pre-wedding portrait sessions involve wearing full wedding outfits. That way, you'll impressively be able to have wedding photos displayed at the very event itself!
Sometimes, these sessions can also be taken after the event if the you want to ensure that their wedding outfits are brand new on the day of your wedding. In these cases, the sessions are naturally called post-wedding portraits. This would be a great idea if you have a busy wedding day and want to focus more on being present and engaging with guests rather than spending more time on photos.
In further mentions, I will refer to all of these sessions as simply engagement photos, as this term is more ubiquitous.
Proposal Photographer
Proposals initiate an engagement and mark the start of a commitment to a lifetime together. While proposing the idea of marriage usually doesn't come as a surprise between couples who are ready, the method of asking for their hand often does. Most proposals come as a complete or at least partial surprise to the proposed-to party. It's a fun process, and having a photographer to help document the occasion helps create unique memories you can share with loved ones.
As a seasoned proposal photographer, I can help you plan your logistics to help capture the exact moments of the proposal – from surprise to realization, then to exhilarating joy; I'll be able to capture all these moments so you can cherish them forever.
Proposal photography can be an additional element to an engagement session or be entirely separate. I usually pair my proposal sessions with a quick couple's session afterward – these can sometimes serve as engagement photos. At other times, couples might prefer a different outfit for their engagement photos, especially if their proposal outfit was kept casual to maintain the element of surprise.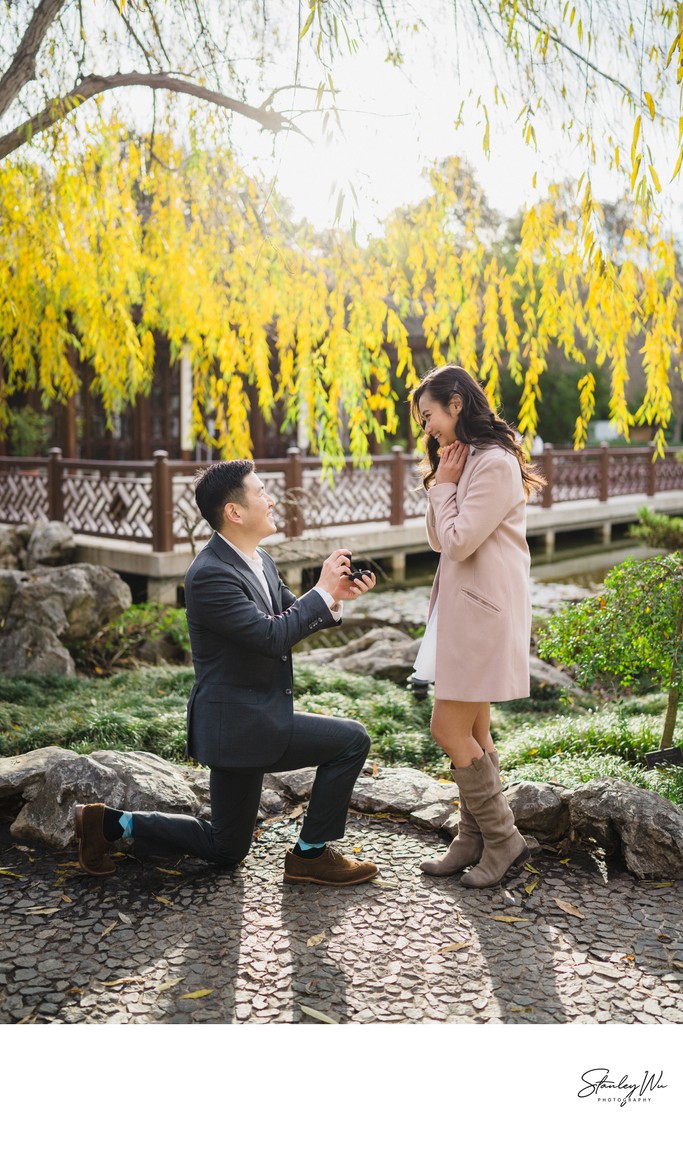 "Should I take engagement photos?"
Some couples may wonder if engagement photos or pre-wedding portraits are necessary since they will already be hiring a wedding day photographer. I would say that you'll only have advantages to doing so.
The biggest advantages of taking engagement photos are:
You can send out announcement cards displaying your gorgeous engagement photos.

After all, you'll be investing quite a lot into your wedding event, and you'll be able to provide everyone with an elegant preview of what's to come.

You can practice being in front of the camera.

If you're unfamiliar with being in front of the camera, don't wait until your wedding day to practice! The engagement session will be an excellent opportunity to practice being in front of the camera and build confidence. As a seasoned portrait photographer, my goal is to enable my couples to have fun and feel relaxed during the shoot while providing them with clear and flattering posing directions at the same time. When your wedding day arrives, you'll be ready!

You'll be able to try out your photographer before your wedding date.

Wedding photographers often include engagement sessions in their wedding-day packages. You'll get to know their working style during your engagement session and can build mutual trust and rapport. This is similar to how you might schedule a hair & makeup trial run. In fact, couples often plan their hair & makeup trial on the same day as their engagement session and try both simultaneously. When your wedding day arrives, you'll be able to fully trust your photographer to create beautiful images of the day, just like they did for your engagement.

With an engagement session, we'll have the opportunity to be much more creative with our location, theme, and styling.

Of course, your wedding will no doubt be gorgeous. But with engagement sessions, we'll be able to craft even more visually thematic images for the look of your wedding. For example, if you have a fairytale-themed wedding, we can create similarly themed engagement photos. Or, if you already have a specific theme going for your wedding and want something entirely different, we can do that too.
How I can help with your engagement photos
My goal as a portrait photographer has always been to make everyday people look like models. I've worked with hundreds of couples over the years for their engagement sessions and weddings and can provide flattering posing directions to help you and your partner look your best so we can tell your love story beautifully and authentically.
I know all the best photo spots around Los Angeles for engagement photos. I'll be able to provide suggestions for locations regardless of what sort of look you wish to go for, whether that's the beach, in the mountains, around the urban cityscape, in a tropical garden, or in the comfort of your own home.
I have extensive experience with engagement photography and can help you create iconic and romantic images that will help you and your partner fall in love even more.
Pricing
My proposal, engagement, and pre-wedding sessions start at $750, and travel packages to nearby destinations start at $300. Engagement sessions are also often complimentary as part of my wedding photography packages.
Ready to book?