Los Angeles Headshot Photographer
Specializing in engaging and highly branded headshots to help you stand out from your competition.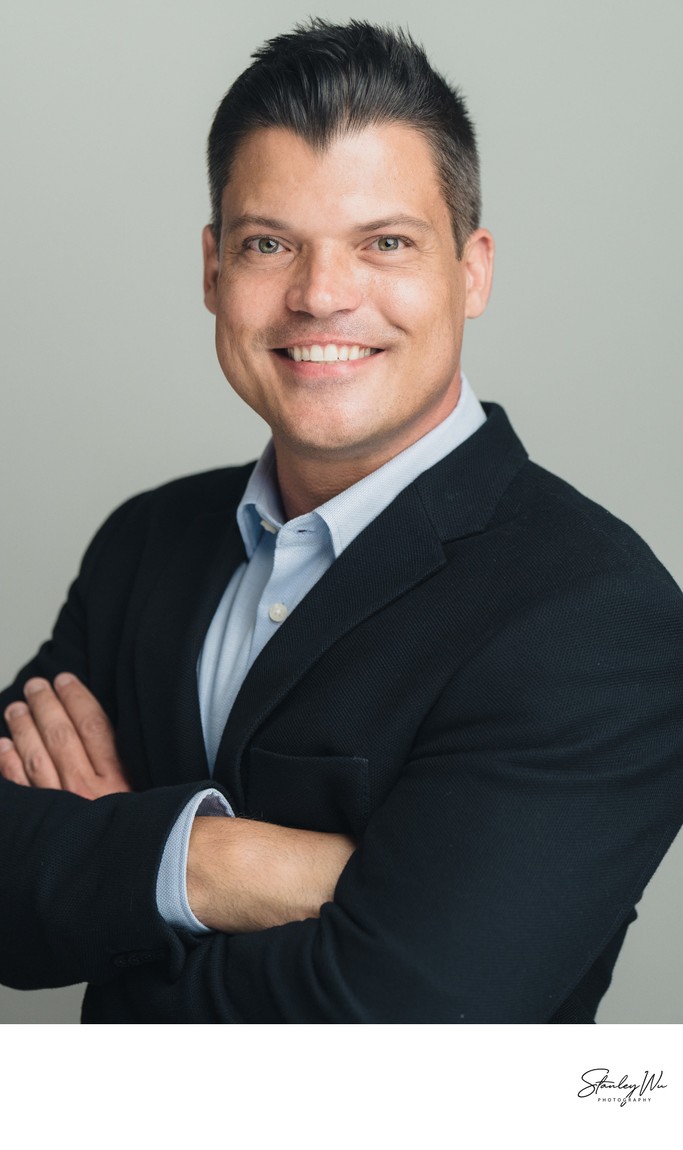 For more portfolio content, visit my portfolio page.
Why do I need a professional headshot?
One word: Branding
In this highly digital and visual day and age, it is necessary to convey the ideas you stand for within the first few seconds that someone sees your profile. You can do that by thoroughly tailoring your brand image to give your target audience an excellent and memorable first impression. An essential component of that brand image is a quality headshot.
Quality headshots aren't only just flattering portraits of a person; they are images that convey what you stand for. Whether you are a real estate agent who wants to show people that you are the key to their next forever-home, or you are an attorney who wants to intimidate the sh*t out of the opposition when they see your profile, quality headshots are essential for building a distinctive first impression and maintaining a branded look that will only reinforce the image that you create.
Almost all of our modern networking activities take place online. No matter who is looking, whether an employer is looking to hire for an exciting new job, a prospective client for business, a talent or modeling agency, or potential connections on your LinkedIn network, your online profile will be seen and reviewed long before you physically meet. Building a purposeful, professional profile means having a quality headshot that exudes not only personality but also an aura of confidence and competence that will instantly distinguish you from your competitors.
Tailored approach
My headshot style is custom-tailored. I will use various lighting and photography techniques that I have to craft your personal brand image visually. Whether it's soft natural light for a warm and welcoming approach, or hard and dramatic studio light for a strong and intense approach, each headshot session will be unique to the look you wish to create.
Sometimes, my clients come in with a look they already have in mind, and hire me to execute it. Many other times, my clients don't have a specific look in mind. Instead, we build that look together based on their industry and their personality.
Natural Light Headshot Photographer
Being in sunny Southern California is a fantastic opportunity to create beautiful natural light headshots with iconic backgrounds. Natural light brings a warmth and vibrancy to headshots that studio portraits are hard-pressed to match.
Natural light headshots tend to be bright and vibrant, although they can be tailored to your exact brand. In some lighting scenarios, turning natural light into dramatic lighting is possible too. These have the flexibility to be much more creative as well. We'll be able to choose a variety of backgrounds, environments, and locations to work in outside the studio.
Studio Headshot Photographer
Are you looking for a quality indoor studio headshot? I have a photography studio in El Segundo, suitable for individual and small group headshot sessions by appointment. I have various backdrops available, including black, white, gray, and colored.
Studio headshots are traditional, but timeless. Sometimes, simple is best when it comes to showing who you are or want to be. With studio headshots, you'll also have a controlled environment with no distractions for your portraits.
Corporate Headshot Photographer
If you're looking to take headshots for your entire company, I can also bring my mobile studio and directly set up in your office, with lights and backdrops. That way your employees won't need to spend valuable company time traveling to a studio to take their portraits.
Apart from quality, the key point in corporate headshot photography is consistency. When your clients visit your About page on your website and see everyone's quality headshots, it establishes legitimacy, authority, and commitment to the craft. It also helps them feel that you are much more trustworthy to work with than a company with no headshots or no professional ones. After all, as human beings, it's only natural to trust those to whom we feel a connection, rather than a faceless corporation.
When I take corporate headshots for a company, I make sure to keep a consistent look all throughout. If your company branding prefers individualism, I work with each individual to capture their strengths and unique traits. If your brand leans towards one specific look instead, we'll discuss the look and I'll help guide each person on set to achieve that look.
If your company has separate branches across the state or country and would like a consistent look all throughout, I offer customized travel packages to visit every branch and take their headshots.
Experience & Service
I've worked with clients from many industries, including academic, architectural, acting, aerospace, art, business, consulting, engineering, entertainment, entrepreneurship, finance, government, industrial, law, literature, medical, real estate, social media, social work, tech, therapy, and more.
I've worked with both larger companies and individuals. I offer quick turnaround times to ensure that your deadlines are all met.
I'm also a highly experienced portrait photographer, meaning that I can help you find your best angles and work to your strengths. I also provide flattering and tailored posing directions that can help you build your professional and personal confidence when you see the final results.
Editing & Retouching
All delivered images will be color corrected and graded in my modern, yet timeless editing style. Sessions also include a set number of professional retouches, which helps smooth skin and blemishes, fix stray hairs, and provides other helpful touch-ups, without altering who you are. After all, retouching is best when it's not obvious.
Pricing
My headshot sessions are highly affordable and start at $450 for individuals. Travel fees for mobile studio setups start at $200. Individual clients typically spend $600-$1200 overall on their headshot session depending on how many looks they do and images they keep. Corporate clients typically spend $900-$2500, depending on how many participants they have.
Serving Los Angeles
My studio is conveniently located in El Segundo near LAX, between West LA and South Bay, but I'm available to take your headshots whether you're right here or next door in Beverly Hills, Brentwood, Century City, Culver City, Downtown Los Angeles, Gardena, Hollywood, Inglewood, Manhattan Beach, Marina del Rey, Pacific Palisades, Playa Vista, Redondo Beach, Santa Monica, Torrance, Venice, or Westwood.
Schedule your professional headshot session today!
---