Los Angeles Graduation Portrait Photographer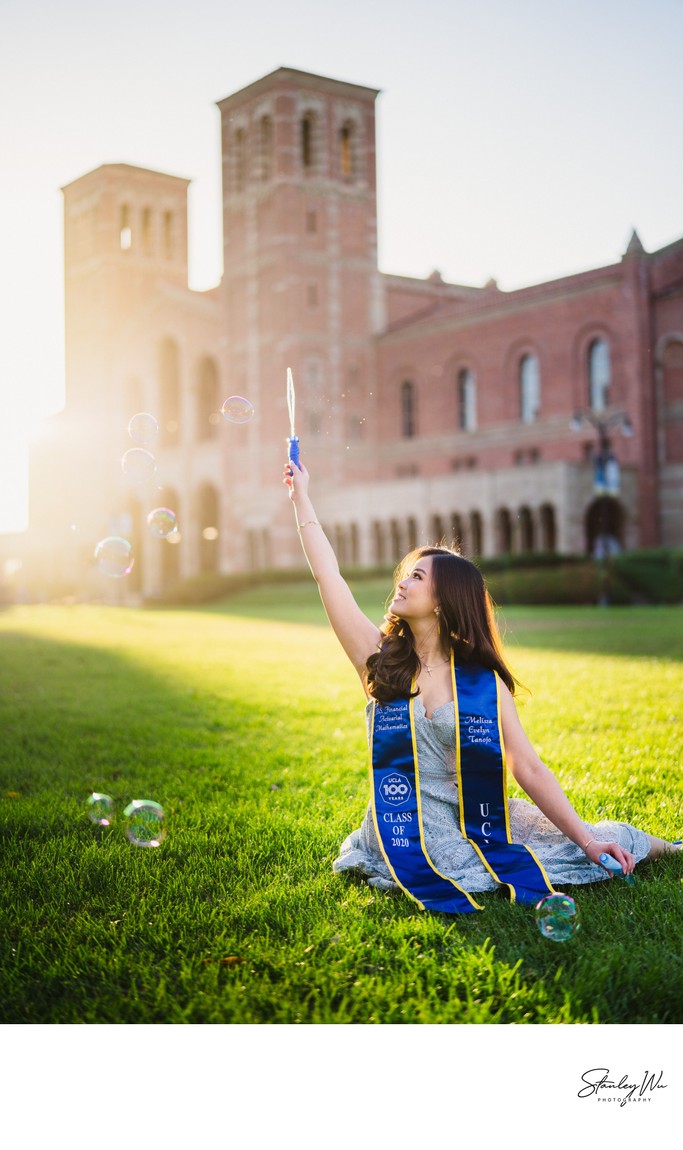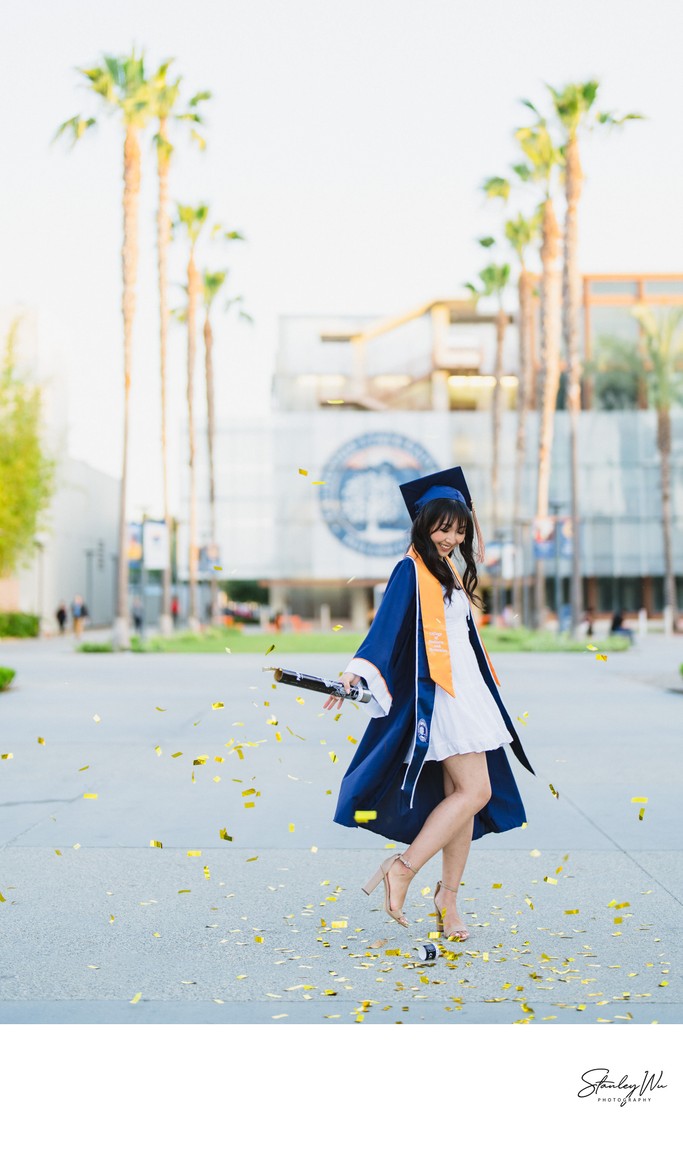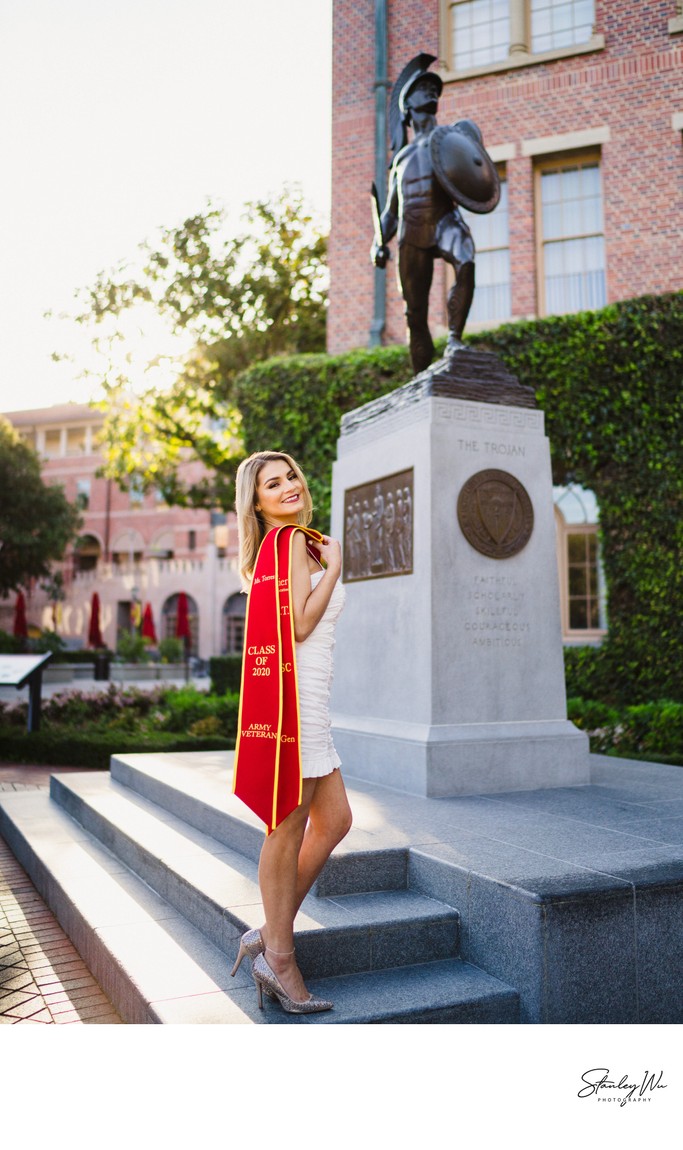 To view my full graduation portfolio, visit my portfolio page.
Welcome, and congratulations!
My name is Stanley, and I am a portrait photographer specializing in helping you capture the excitement and joy of graduation, framing these moments into a beautiful album you'll be proud to keep forever.
I believe that working hard for and finally obtaining your degree is a huge accomplishment that deserves celebration – I am here to help you celebrate your achievements in the most tangible way, a graduation photoshoot!
Why choose me? Because I believe your grad photos should reflect your very best self. I see photo sessions as a unique way to express yourself and document the times, and I can help you achieve that naturally and authentically!
Elegant, Artistic, and Timeless Photography Style
My portrait photography style is Elegant, Artistic, and Timeless.
I believe that there is natural elegance to our world and to all its people. When working with my subjects, I direct them to show their natural elegance and beauty through their unique personalities, whether feminine, masculine, extraverted, introverted, fashionable, or witty.
I see photography as an art form, an opportunity to bring creative visions and ideas to life. I see every shoot as a creative opportunity to make something unique. I believe that every person I work with brings something special to the table, which I always look for in my artistic process.
A great photograph transcends time. Although I love participating in popular trends, I believe that the most timeless formula to creating a fantastic portrait is simple: tasteful composition and lighting and a subject who feels encouraged to be themselves.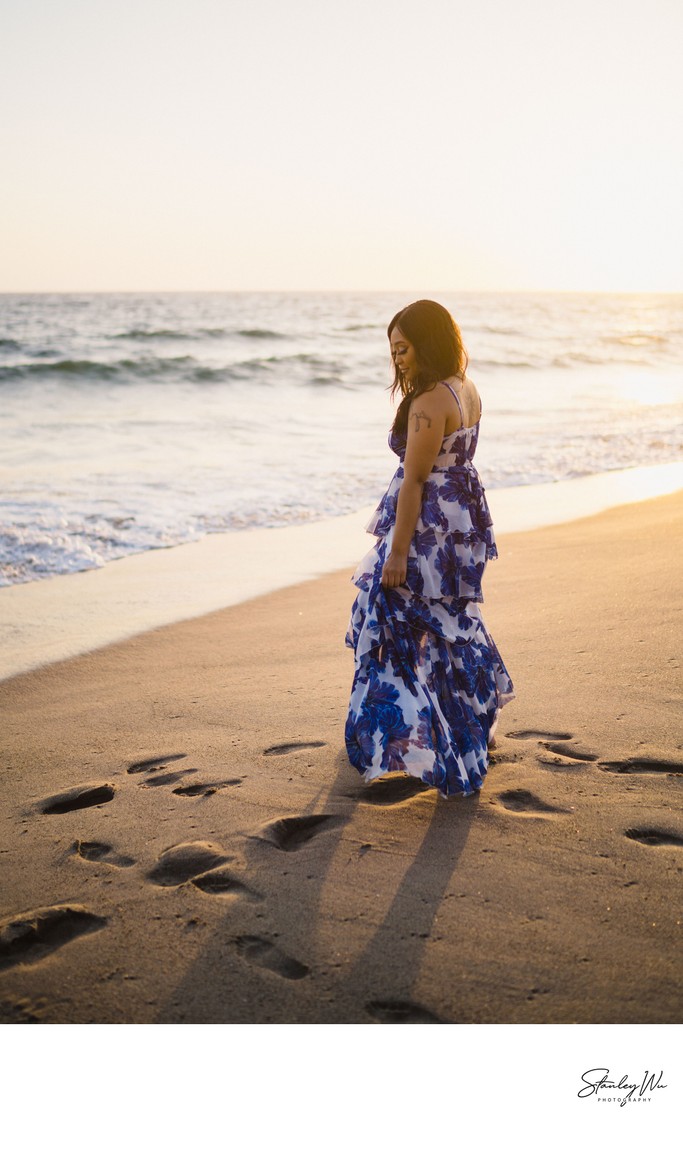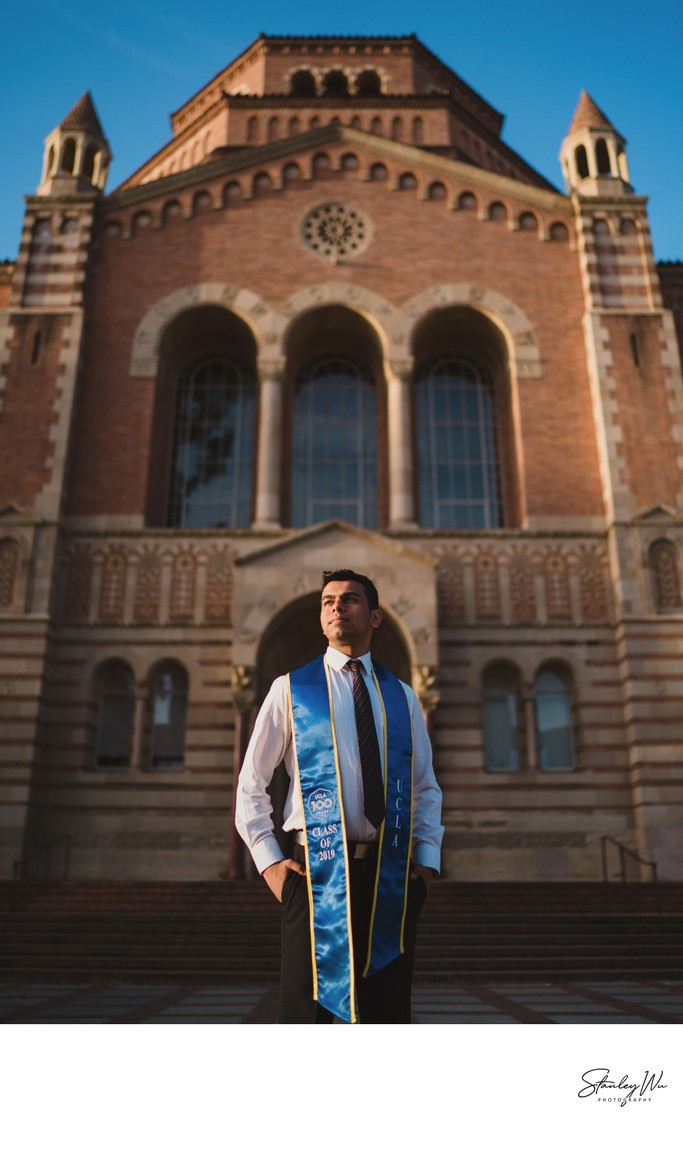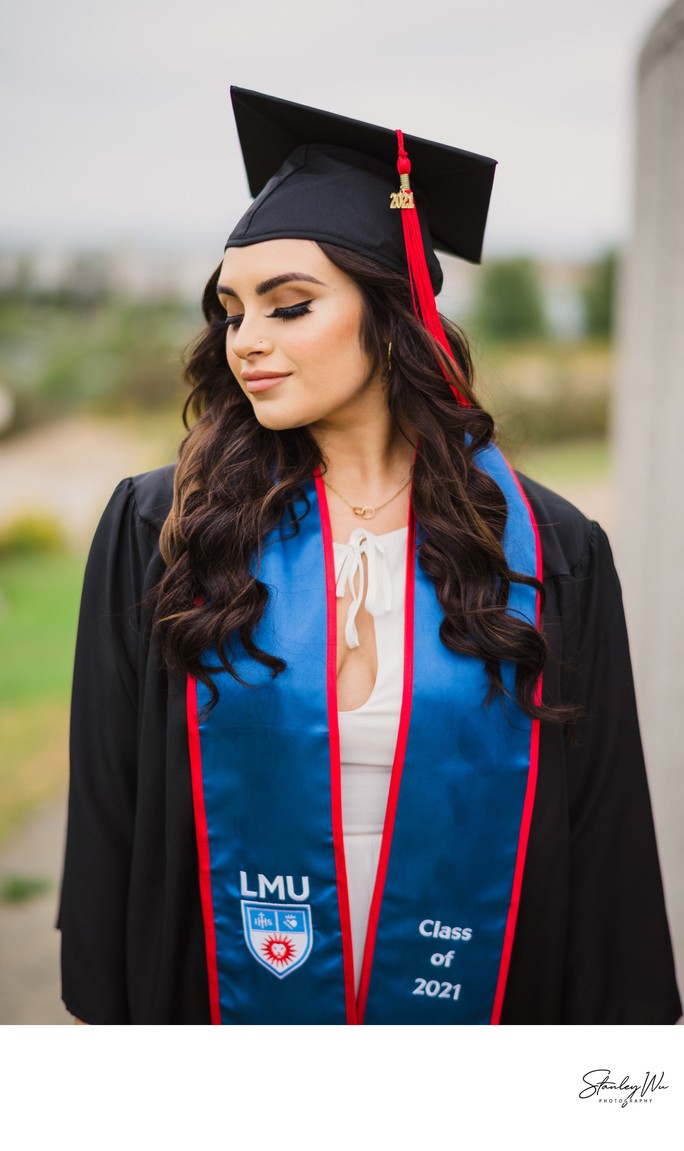 Modern Graduation Portrait Photography
What is graduation portrait photography? Graduation portraiture is the art of photographing a graduating student upon completion of their academic degree in celebration of their achievement and to commemorate the occasion.
Since 2010, graduation portrait photography has rapidly evolved from a yearbook studio style, diploma-wielding, smile-at-the-camera look to become so much more elaborate. Modern graduation portraits are tailored to each individual, often forgoing the cap and gown in favor of showing off the specially-chosen outfits underneath. Portrait sessions often take place outdoors on college campuses or other scenic locations around the city.
Nowadays, graduating students invest hours into trying out new clothing and researching Pinterest, Instagram, and TikTok for unique graduation photo ideas. And it's easy to see why – the beautiful results that come from a graduation portrait session now are stunning and far more distinctive than they were twenty years ago.
Having helped inspire this change of style in the industry, I believe that I can offer a definitive experience when it comes to modern graduation portrait photography!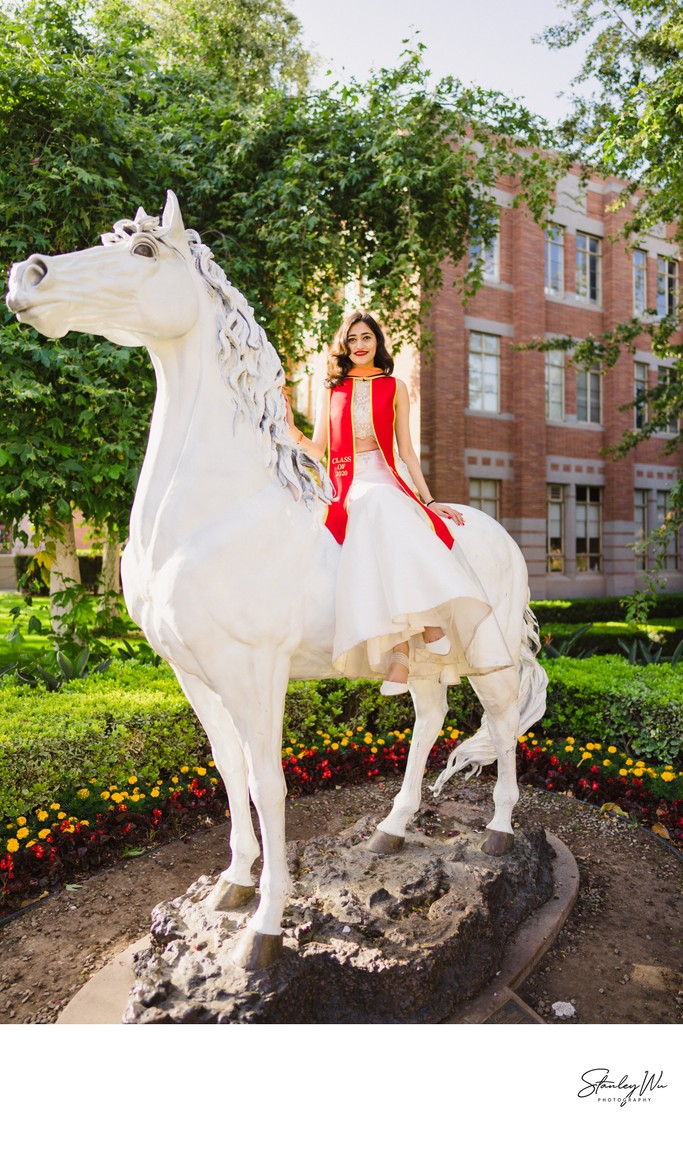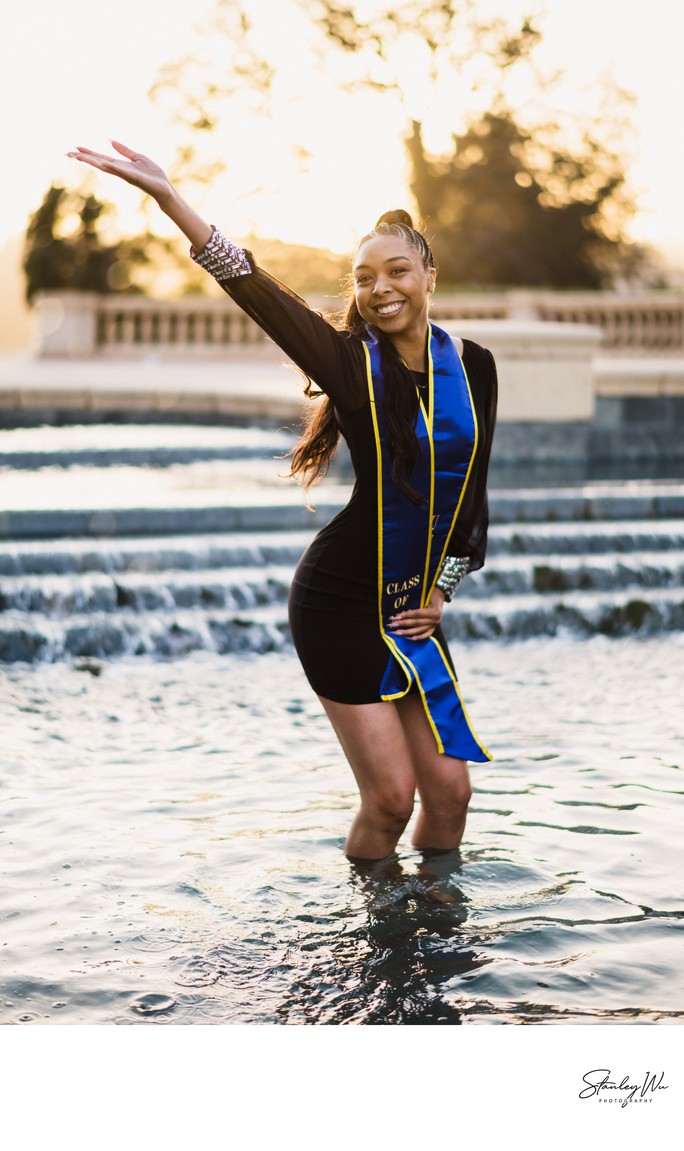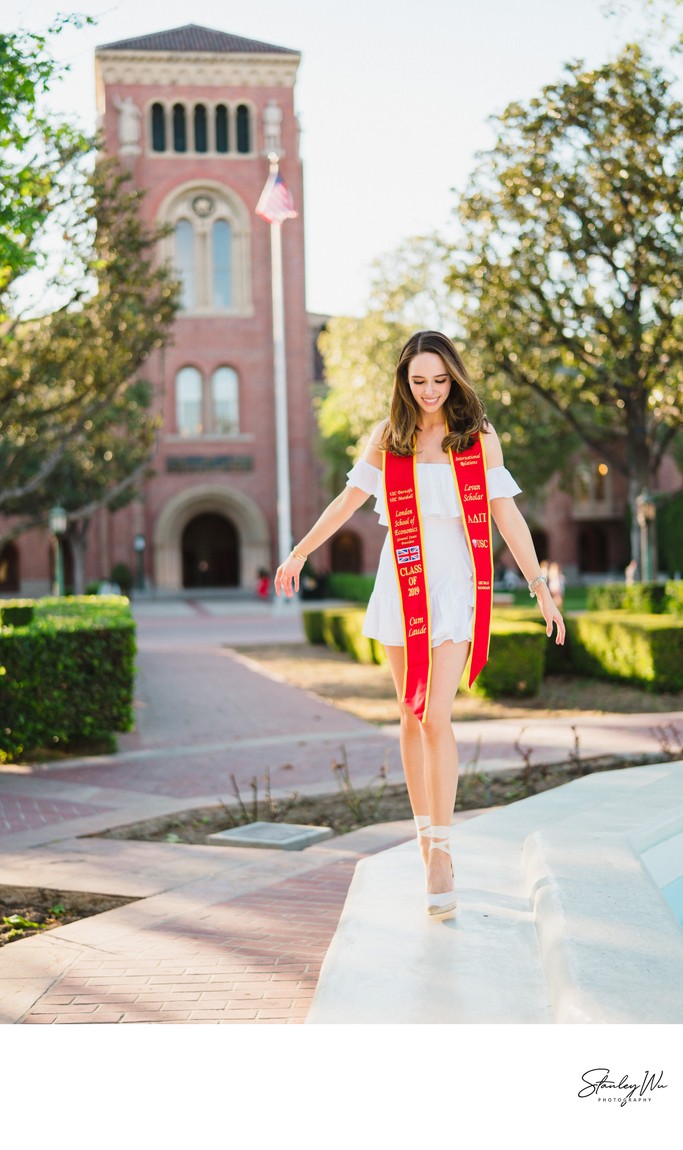 Natural Light Graduation Photographer
Most of my graduation portrait sessions take place outdoors. You might be wondering - why outdoors and not in the studio? I've always loved the great outdoors and how it brings out an endless amount of positivity. I think it does the same for everyone. Being outside at the place where you made all these memories inspires a trademark of authenticity that in-studio portraits will be hard-pressed to match.
My natural light portrait style revolves around natural light, combining it with the beautiful architectural features of your college campus or favorite location to create unique environmental portraits that perfectly show off the remarkable experiences you've had throughout your educational career.
Here in SoCal, we enjoy 284 days of sun each year on average. For each spectacular sunset, I take full advantage of the warm rays of sunshine to create iconic images representing your experience here in sunny Southern California. On the rarer occasions of cloud cover, we'll be able to get ethereal and soft, velvety portraits instead.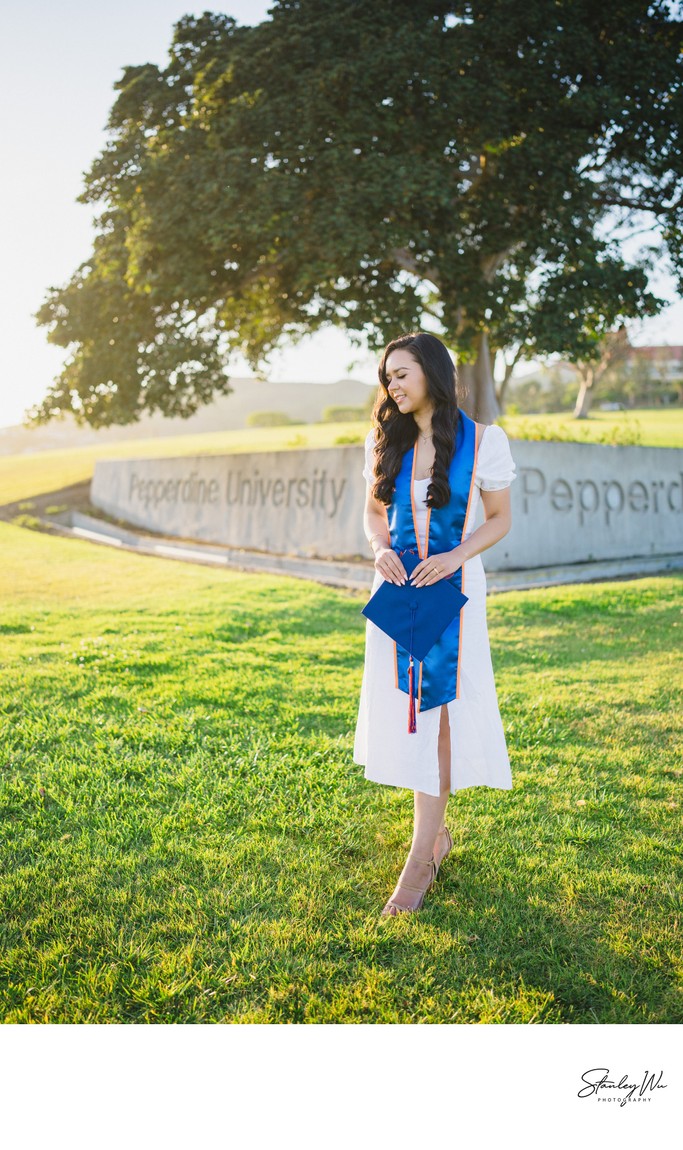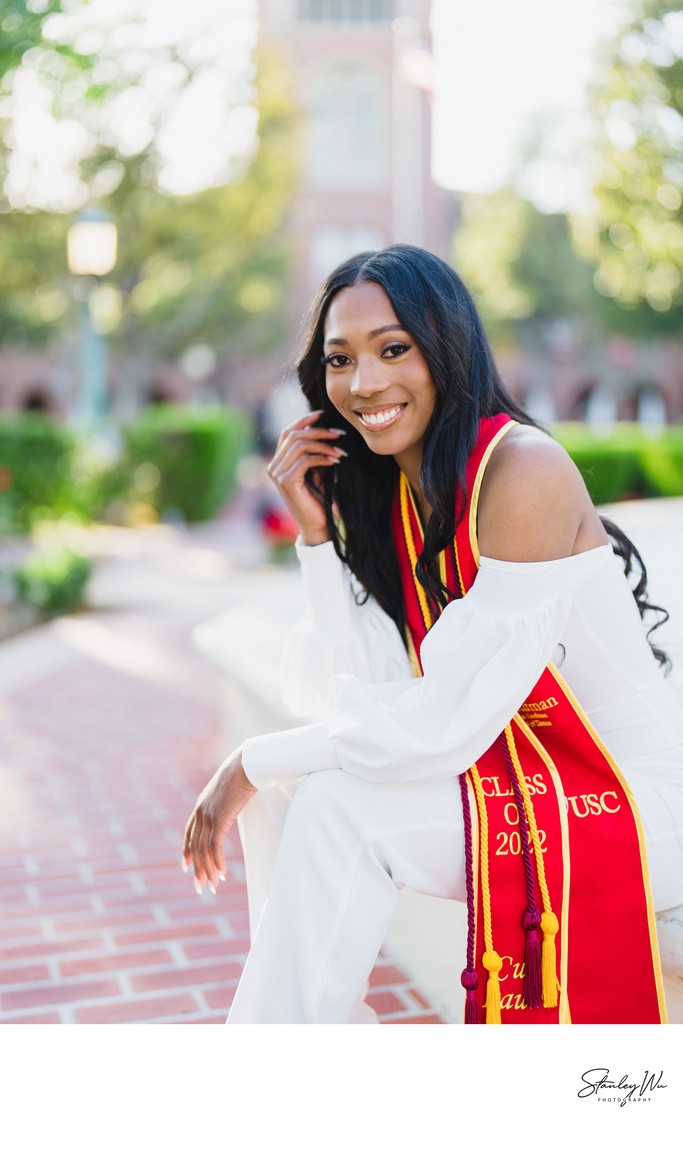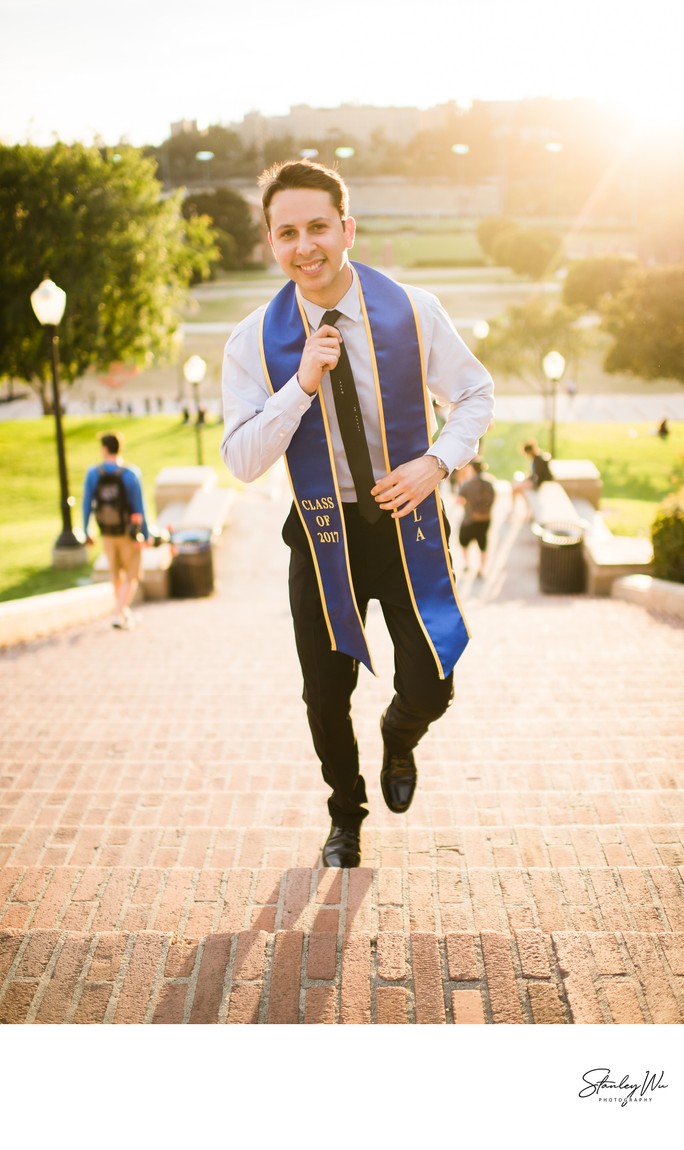 Studio Graduation Photographer
If you are looking for a classic graduation photo with a solid backdrop, I offer add-on or standalone studio sessions to create a signature studio graduation portrait.
A few compelling reasons to consider a studio session include:
It's a timeless classic, and it's easy to match graduation portraits across generations in your family.
They're simple and easy with less prep work required.
Studio portraits look amazing framed alongside the other achievements displayed in your home.
When you book a studio graduation portrait session with me, you'll get a far more personalized and tailored experience compared to going with your school studio. School photographers typically don't give you much time or direction to truly show your best self and are priced too high compared to the lower quality results you get.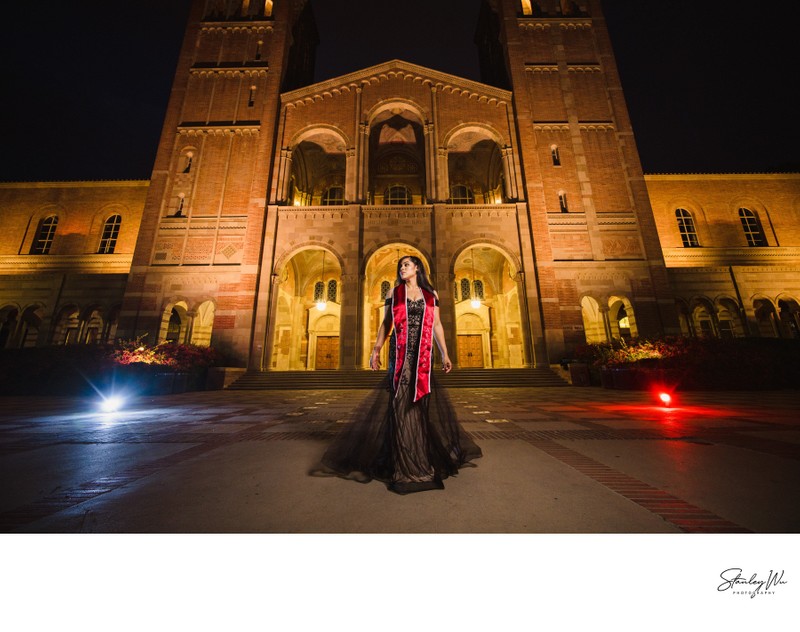 How I work with you
My goal is to make everyday people look like models. In my portfolio, you won't find any hired models, just everyday people who want to look amazing and trust me to help them achieve that.
When you work with me, you'll find that I am easygoing, proactive, and passionate about getting that next fantastic shot that will be even better than the stunning one we just took. Most of my clients are first-timers when it comes to being in front of the camera, so I always take extra time to direct and offer posing tips and suggestions – that way, you'll look your best regardless of your photo shoot experience!
I'll be there to encourage you - to show how accomplished, brilliant, and capable you are. I can use words, but they say a picture is worth a thousand words. If you've never done photos before and don't feel as confident in yourself, I'll be sure to show you what I see and help you believe!
For all my sessions, you'll often observe that:
I'll find your best angles and play to your strengths, whether it's a charming smile or a cool, dashing gaze.
I'm very detail-oriented and help adjust your hair and outfits so you'll be looking picture perfect.
I'll always be proactive in suggesting various poses that compliment you and your personality.
I'll show you the wonderful photos we've been getting throughout the shoot so you won't be stuck wondering how you're doing and can conclude the shoot confidently.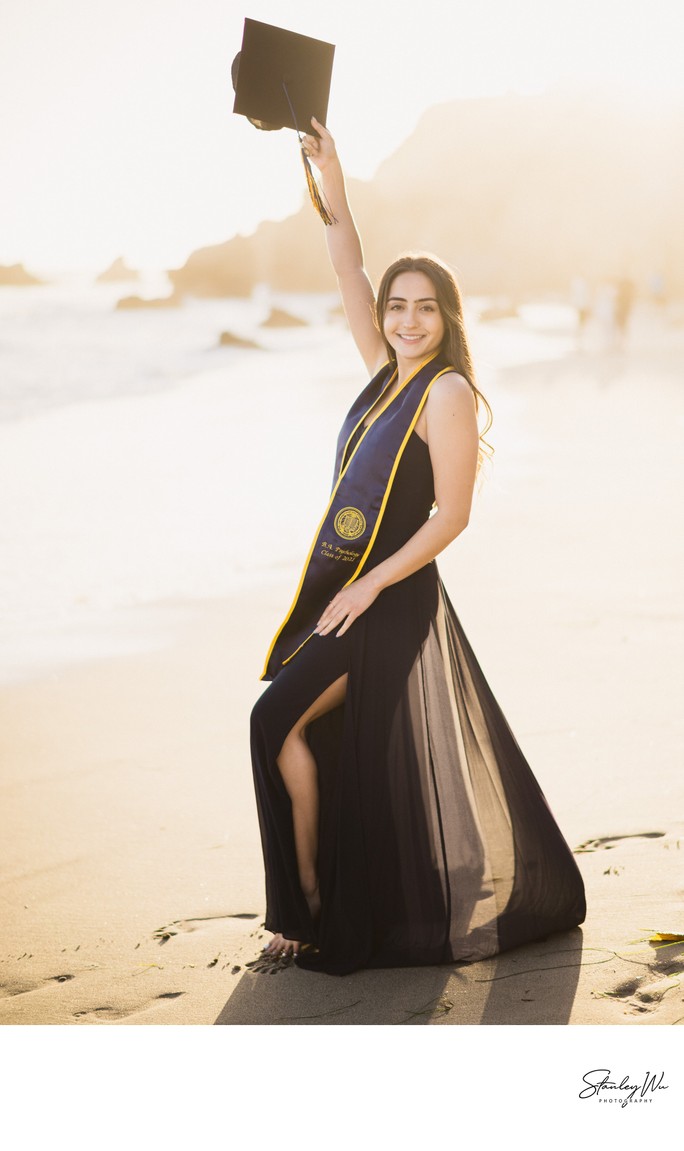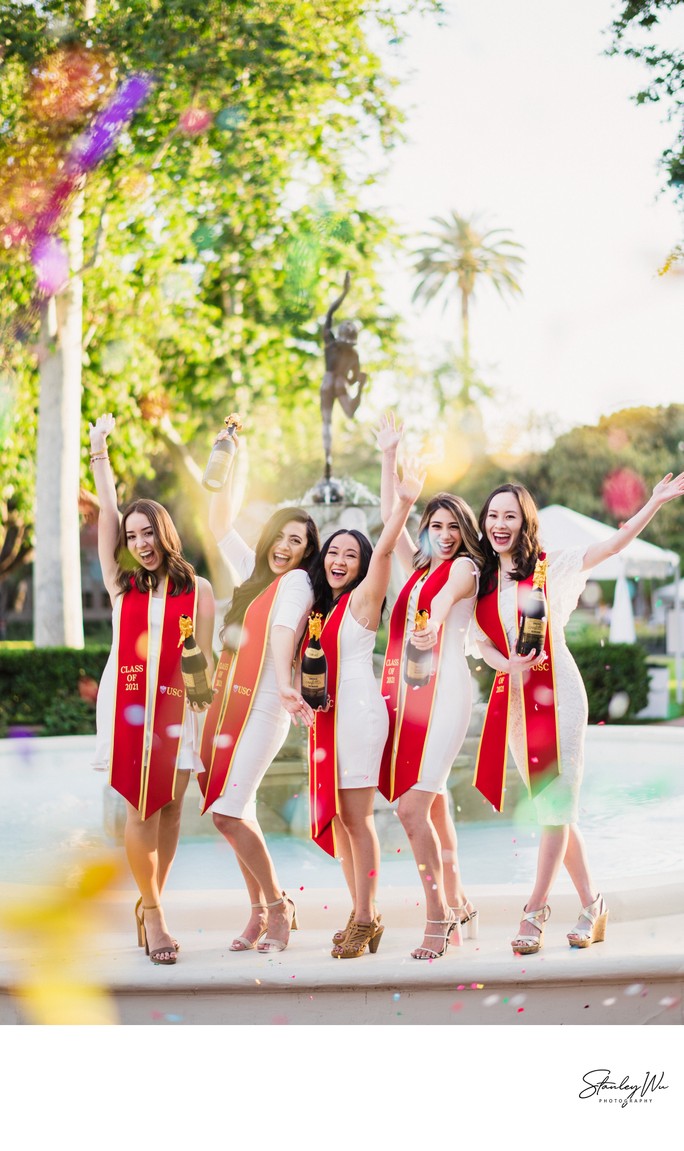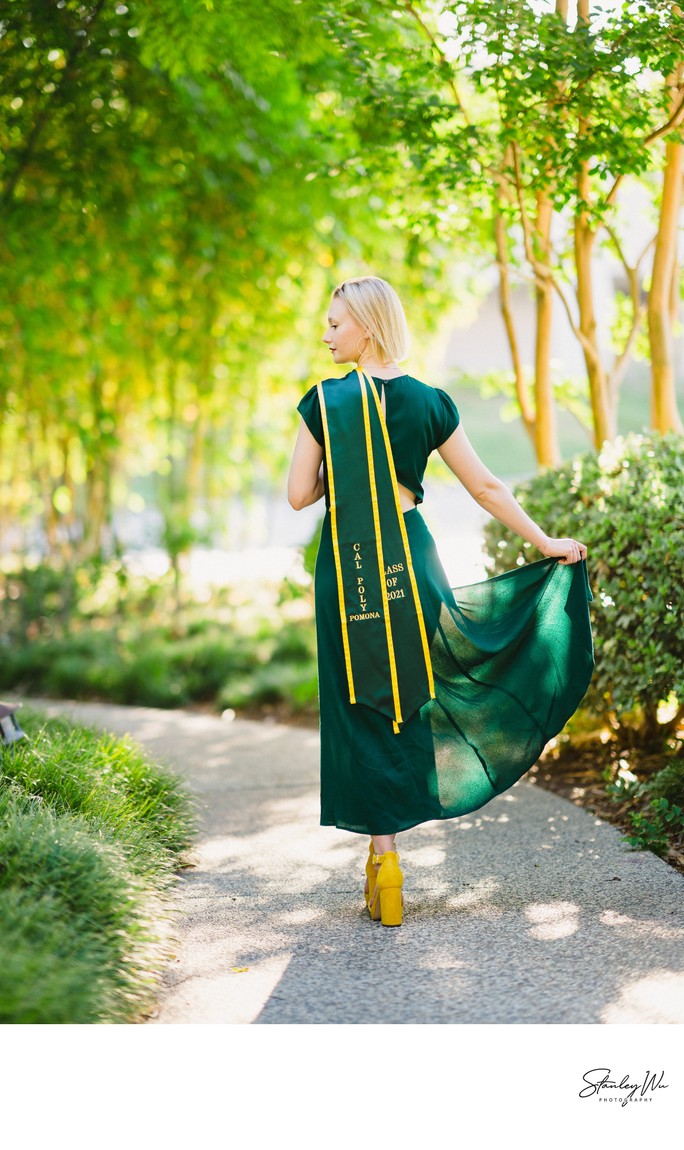 My qualifications
It's easy to list numbers, but they help signify that I'm a seasoned veteran and can bring all of my expertise to help make your session as fun, easy, and stress-free as possible.
I've also worked with students from many places, cultures, socioeconomic backgrounds, and traditions, with many different personalities, body types, and gender identities. I am here to celebrate with you no matter who you are or where you're from!
What you'll find with less-experienced photographers, such as student photographers, is that they charge cheaply, but you will have to do much more work to come up with ideas, spend more time and stress planning, and feel awkward in front of the camera because you aren't getting any direction or feedback.
With my experience on the other hand, you'll find my sessions fun and relaxing, being able to be present and enjoy your moments as a graduating student having a final walk through your school.
What you'll find with other photographers who are not seasoned in the art of graduation portraits, such as wedding photographers, fashion photographers, or family photographers offering grad photos on the side, is that you will have to do more location planning and struggle with your photographer to figure out how to correctly put on your masters' or doctoral hood, and occasionally feel that your accomplishments aren't as exciting in comparison to the joys of a couple in love or LA fashion week.
As for me, I am passionate about helping grads capture the excitement of their journey – this is actually how I started as a professional photographer. I love doing graduation portraits because I also hold the wonderful university experience that I had dear to my heart. I enjoyed my time in college, made a few amazing friends, and created fond memories that will last me a lifetime. I understand this moment's importance, and I am honored to capture these beautiful moments for you so that your current and future family can cherish them forever.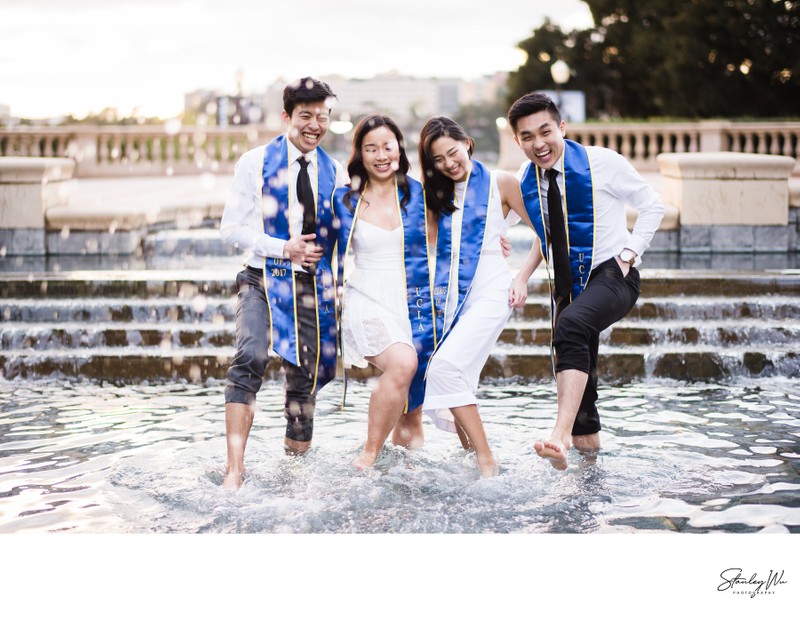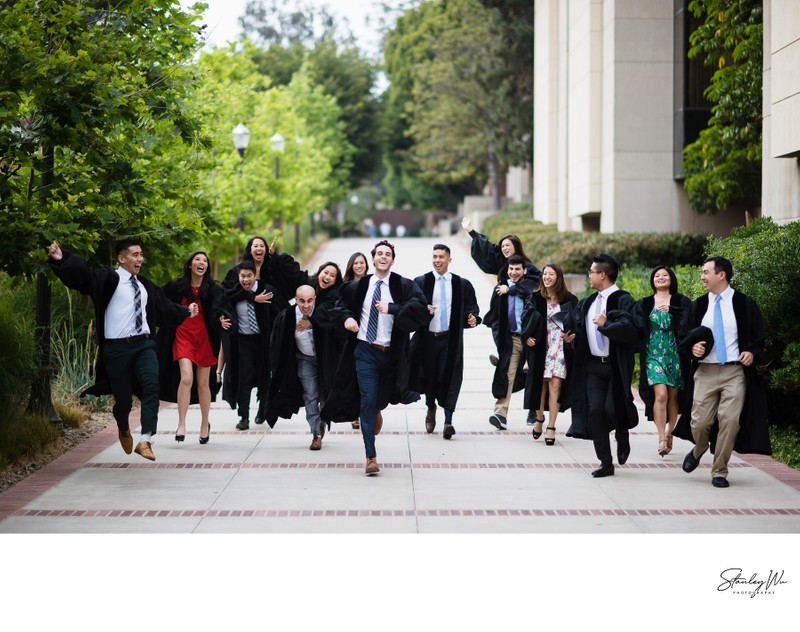 Testimonial
I believe in the quality of my service, but don't just take my word for it – see what others who have hired me in the past have to say!
I have a review rating average of five stars with over 150+ real client reviews, which you can read here.
I can't even put into words how great the entire experience was, from planning the shoot, to the actual shoot, to showing the reveal after. The shoot was such a personalized experience, Stanley took into account all the different aspects I wanted to incorporate into the photos. One of the things I liked the most, is how much he helped with posing. I'm a pretty awkward picture taker, but Stanley provided me with amazing instructions to get the best pose, and I could not be more amazed at the way the photos turned out. I would absolutely recommend Stanley to anyone that wants professional photos.

- Catalina R.
Class of 2022






---
Pricing
I offer simple and transparent pricing for my sessions and products. My pricing is also affordable. While professional photography is not cheap, my clients have always found my services a fantastic value. I always aim to provide value above and beyond what you pay.
I offer a build-your-own collection system with session fees paired with digital packages starting at $800. All-inclusive sessions, which can include albums, prints, and digital images, start at $1550.
To see more details on pricing, please fill out the inquiry form on my contact page and I'll send you an email with my full pricing sheet along with detailed steps on my booking process. We'll also have an opportunity to schedule a call if you would like a full overview of my packages.
In hiring me to be your graduation portrait photographer, you'll obtain many distinct advantages in return:
I am an expert in graduation portrait photography and can help you celebrate your achievements with beautiful and iconic images that embody the spirit of the occasion.
I have extensive knowledge of college campuses and photo spots around Los Angeles and can bring that experience to create the best photos for you.
I am highly experienced in working with people of all types and can actively direct and pose you to show off your best self in an elegant and flattering way.
I will help you with the session logistics with tips, guides, and meetings beforehand so you won't have to stress about planning a shoot.
I provide beautiful albums and wall art to pair with your session, something many photographers no longer offer.
When you book a session with me, you can relax knowing that you're signed up with someone who is personally invested in making sure you get incredible results!
A beautiful set of quality portraits will last a lifetime. After years down the line, they will become priceless.
While it's true that amazing events will continue to be amazing on their own, I believe that investing in unique, quality portraits will only enhance the experience and help you and your family remember the occasion for generations to come. After all, this is the time when you start to build your lifelong heirlooms. I believe that after many years of hard work and obtaining your degree, investing in quality graduation portraits is a worthy investment because you are worth it!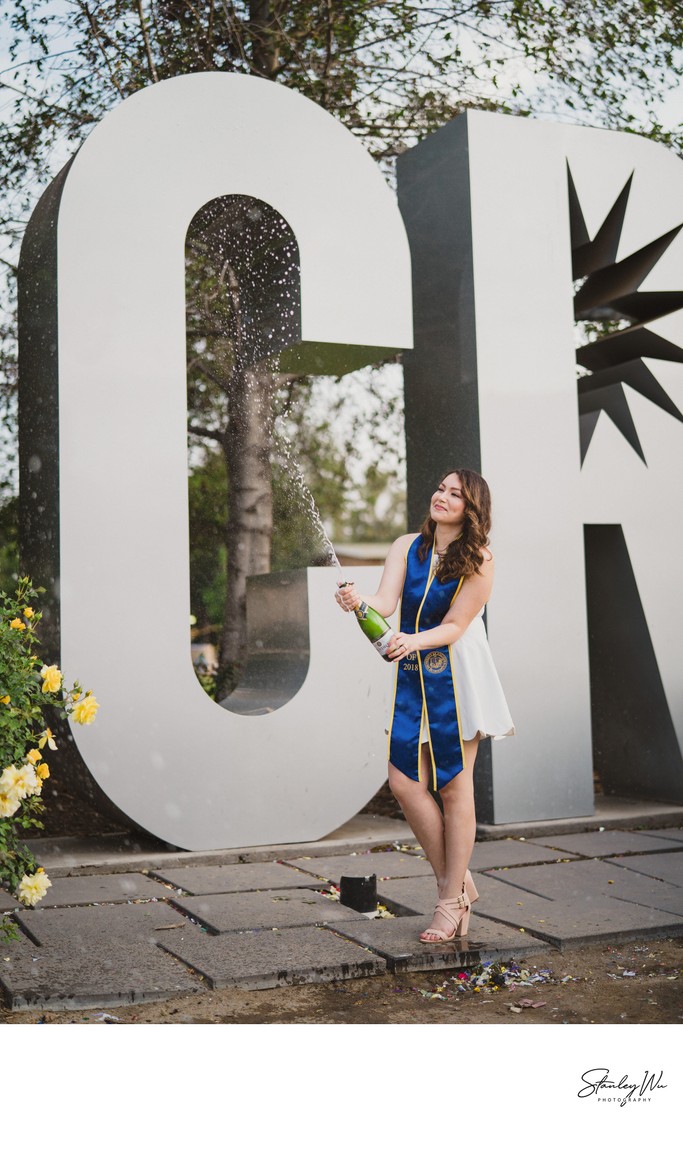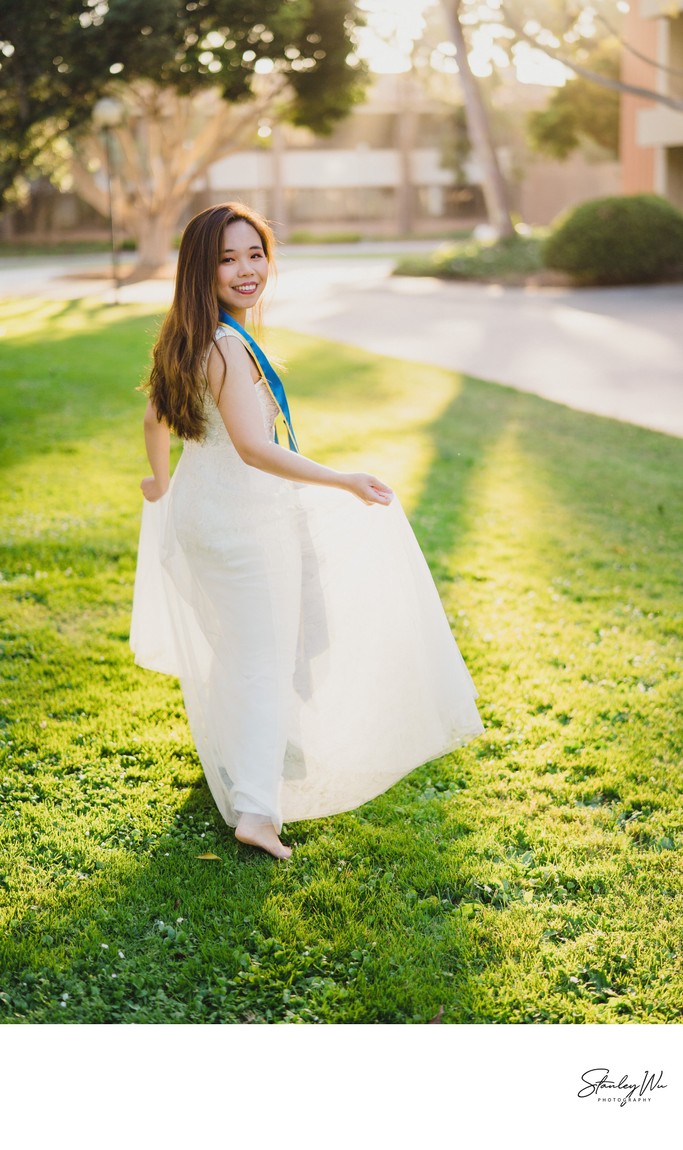 Colleges & Universities I've worked with
I am based in Los Angeles but would love to travel to you wherever you are in Southern California, whether in Malibu, Downtown LA, San Fernando Valley, Pomona, Pasadena, Long Beach, or Irvine.
Each year, I photograph more than a hundred portrait sessions at locations such as the University of Southern California (USC), University of California - Los Angeles (UCLA), Loyola Marymount University, Pepperdine University, Alliant International University, California Lutheran University, Chapman University, Mount St. Mary's University, University of La Verne, Loyola Law School, Pomona College, Occidental College, University of California - Irvine (UCI), and California State University locations such as at Fullerton (CSUF), Northridge (CSUN), Los Angeles (CSULA), Long Beach (CSULB), Pomona (Cal Poly Pomona).
Other locations I can travel to with limited availability include UC San Diego, UC Santa Barbara, Cal Poly San Luis Obispo, and UC Berkeley. These locations are outside of my standard operating range and will require additional travel fees.
No matter where your school is, we'll be able to get amazing captures that properly show off your beautiful alma mater!
I regularly work with a variety of degree levels, including high school, undergraduate (BA, BS), masters (MA, MS, MFA, MSW, MBA), and doctorates (PhD, MD, JD) too. I'm very familiar with the graduation regalia from each and can help you wear them properly.
If you aren't from town and have been attending a school on this list remotely, I'll be happy to take us around and give you a tour of your school during our shoot.
If you would like our portrait session at another location around Los Angeles, I have a list of excellent portrait locations around Los Angeles that I can recommend. After all, we live in one of the world's most iconic, expansive, and diverse cities - the possibilities are endless!

Visit my portfolio page for more portfolio content! To see a few sample galleries, visit my blog.
---
Frequently Asked Questions (FAQs)
General questions:
OK, I'm ready to book. What's next?
Are you available to travel?
Do you give posing directions during shoots?
Questions I am often asked regarding graduation photos:
Should I take graduation photos?
When is the best time to take graduation photos?
Do I need to get my photos done before graduation?
Should I schedule my grad photo shoot on my actual graduation date?
When should I book a graduation photographer?
Should I hire a hair & makeup artist?
Are weekdays or weekends better?
What time of day is best for graduation photos?
Should I take grad photos with my friends or by myself?
Should I bring my significant other or family members to my graduation shoot?
See below for answers!
General FAQ
OK, I'm Ready To Book. What's Next?
Fill out the contact form below with your information, along with any other details you'd like to add. I'll get back to you with booking information, availabilities, and rates as soon as possible so we can reserve a date and start planning for our shoot.
Are You Available To Travel?
Yes! Most locations within the Los Angeles area and nearby parts of Orange County are within my standard operating range. Travel beyond that, such as Ventura County, San Diego County, and San Bernardino County, and further locations such as the Bay Area, are available with a travel fee. Note that travel opportunities are extremely limited during my peak season, which is from April to June. I would suggest booking a date from July to March if you would like me to travel, or if you would like to do a destination portrait session.
Do you give posing directions during shoots?
Always! I am very active and meticulous with providing flattering posing directions. Most of my clients are first timers when it comes to being in front of the camera. I do take the time to create an encouraging and supportive atmosphere so you can feel relaxed and be yourself. After all, when it comes to photographing people, my goal is to make everyday people look like models!
Graduation Portrait Session FAQ
Should I take graduation photos?
In other words, is it worth it to take graduation photos?

Absolutely!

Of course, you might have a few concerns, such as feeling too busy, not thinking that grad photos are worth the time or cost, and feeling camera-shy.

If you feel too busy to take graduation photos now, you'll probably be even busier later with even more on your plate. It is indeed a time and energy investment to do graduation portraits, but I believe it is worth it!

If you feel like graduation photos don't seem worth it or important at the moment, I would recommend still doing them as a favor to your future self. Photos taken today are nowhere near as valuable as those made ten years ago – you can still take more photos today, but you can't create more memories of a moment long past.

If you feel camera-shy, I would see a great photo shoot experience as an empowering one to assist you in your journey to overcoming those obstacles. Many of my clients haven't had professional photography experience before or have had negative ones in the past. They've often found my sessions relaxing and enjoyable, with the end product far exceeding their expectations.
When is the best time to take graduation photos?
The best time to take graduation photos is when your venue has less foot traffic, fewer grads are taking their pictures simultaneously, and there's plenty of time before your graduation date to make announcements.
Your campus's foot traffic is an important consideration when planning your timing. With more foot traffic, more people will walk around in our backgrounds. It would be best to have an empty campus, typically during academic breaks, such as spring, summer, and winter breaks.
Times to avoid when considering foot traffic would be significant event days. A few times a year, your school may have public event days that invite many guests to visit, leading to a massive increase in foot traffic for the affected dates. Examples would be new student welcome dates (Bruin Day, for example) or public events (such as the Los Angeles Times Festival of Books). You'll want to avoid these dates as much as possible if you wish to access your iconic locations as backgrounds.
Another factor that is just as important for similar reasons would be other grads taking their photos simultaneously as you.
Other graduates planning their sessions will compete directly with you for the same iconic spots on campus. In contrast to students walking around from class to class, other grads will linger at iconic places for their photos. The direct result is that we'll often have to wait for spots or find alternate angles.
For Spring graduates, one of the best times in the year to take your graduation photos is in March during spring break.
There are a few reasons that make spring break a great time:
Spring break is typically around March, making it at least two months before your graduation in May or June. This gives you plenty of time to get your photos back, design and print announcement cards, and get your album delivered before graduation!
There will be no one on campus as most students will be away on break. This makes for an incredible portrait experience with picture-perfect empty backgrounds at your school. If you are shy about having an audience watch you while you take your portraits, this would be an excellent time for a more private photo shoot.
After spring break, most grads typically start planning to take their pictures, so you'll have far less competition when it comes to utilizing the iconic spots on campus for your portraits.
March will still have cooler temperatures, which is better than the hotter weather we may experience during May or June. It makes for a much more pleasant experience not having to sweat!
Having your portrait session during spring break requires a bit more planning. You'll need to prepare a few things:
You must ensure that your graduation regalia is delivered before spring break. To complete the set, you will need the cap, tassel, gown, sash (or stole), and hood (for masters/doctoral graduates).
You will also need to book early, as spring break session times tend to get booked out very quickly. I would advise getting started on planning in January. Some of my spring break dates get booked out a year in advance.
Other than spring break, I would recommend anytime at least two months before graduation to avoid the crowds. You can also consider at least one week after graduation for the same reason. Anytime around the fall or winter season would likewise be ideal.
If you plan to have your session closer to graduation, such as during April or May, consider including alternate locations on campus for people-free backgrounds or an early morning shoot instead. If all else fails and we need to schedule on a busy day, don't worry – I have much experience dealing with crowded photo shoot locations. I can guide us towards more creative perspectives that can still create a great set of graduation portraits.
Do I Need To Get My grad Photos Done Before Graduation?
Taking your graduation portraits before your graduation date has numerous benefits, but they don't need to be done beforehand. They can be done afterward or at any point throughout the year, whenever you are free!
The benefits of having your graduation photos done before your actual graduation date include:
You'll be able to share your photos and send announcements on your graduation date.
You can surprise your family with a framed portrait or album from our shoot on graduation day.
It'll be in-season, feeling the anticipation of graduating while planning for and going through your graduation photo shoot.
Your friends will likely be available for a group photo shoot.
After finishing your shoot, this will be one less thing to plan during a busy graduation season!
On the flip side, a few reasons you might want to consider taking your graduation photos after graduation include:
If you have a significant workload during the semester, having your shoot after graduation will help you feel far more relaxed and present.
Your school will likely be much emptier, giving us complete creative freedom to use any background we choose without the crowds.
Should I schedule my grad shoot for My Actual Graduation Date?
Hiring a photographer for your graduation day is an excellent idea if you want documentary-style coverage. But if you are looking for a complete portrait experience, I do not recommend having your photos done on commencement day.
The benefits of scheduling your session on graduation day include:
You'll already be fully dressed up, so there is no need to do it again on a separate day.
You'll have your family around for the pictures, which is especially significant if they're from out of town.
You'll see many of your friends who will also be dressed up and can join in on your photos.
You can get amazing photos of yourself walking across the stage if you've hired your photographer for that portion of the day.
It'll be fun and festive, and you can get great, professional captures of the day.
Why you should not schedule your graduation photo session on graduation day:
Your campus will be crowded with people, stages, and tent setups, blocking access to many locations. You likely won't be able to get any photos without other people in the background.
You might be sweating or tired from walking around all day, sitting through ceremonies in the sun, hanging out with your friends, and entertaining out-of-town family, making it challenging to be relaxed and prepared for your portraits.
While there are reasons to have your photo shoot on graduation day, I would advise planning another day for your session. I've personally done quite a few grad-day photo sessions with fantastic results and empty backgrounds using compositional magic. Still, it's ideal to set aside a dedicated day to do your graduation portraits for best results.


How Far In Advance Should I Book My Graduation Photo Shoot?
I would recommend making your reservation at least one to two months prior. That way, you'll have the most options regarding dates and availabilities. If you book too late, there's a good chance your favorite photographer may no longer have any availability.

If you book earlier, you'll quickly find dates that match your schedule. You can also start planning your graduation outfits, regalia, props, and book hair & makeup as well.

My availability during peak season usually gets fully booked up one month in advance.
Do I Need Professional Hair & Makeup For My Graduation Photos?
In most cases, I would absolutely recommend getting your hair & makeup professionally done for your graduation portraits!
A few compelling reasons to hire a professional hair & makeup artist for your photo shoot include:
You don't have as much experience styling your own hair & makeup.
You can let professionals take care of your hair & makeup, just as you are letting a professional do your photos – you can relax and simply enjoy a glam day!
Professional hair & makeup artists frequently work with photographers, knowing what will work best for photo shoots.
I have a referral list of highly-rated hair & makeup artists that I would be happy to provide after booking. I would typically budget around $150 to $250 for a professional hair & makeup artist.
When is the best time of day to take grad pictures?
The best time of day for outdoor graduation portraits would be around sunset, during what's known as "golden hour". During golden hour, the sun dips low on the horizon, which creates a beautiful golden light that magically brings out the most color in everything you see.

Sunrises also create a similar golden hour effect early in the morning, but you will have to get up extremely early to get ready in time for a sunrise shoot.

A similarly great time would be in the late mornings or early afternoons, which produce beautiful bright and airy lighting for portraits.
The best time of day for unique graduation portraits would be after sunset when it gets dark for some creative night photography.

Most of my sessions take place during afternoons and golden hour, which are also my favorite times of day to shoot.
Are weekdays or weekends better for graduation photos?
The answer depends. In quieter months, such as during summer, there won't be much of a difference between shooting on weekdays or weekends.

You'll have increased foot traffic in busier months from students walking to and from weekly classes. On weekends, you'll have more activity from other graduates taking photos at the same time. I would say that it's typically easier to deal with increased foot traffic rather than competitors for the same spots, as it takes much longer for them to clear the areas that we would like to use. Therefore, weekdays can be better than weekends, but only marginally. Results may vary depending on the actual date of your shoot.
Should I Do A Solo Graduation Photo Shoot Or A Group Session With My Friends?
Group photo shoots can be fun! However, the best portrait experience typically comes with individual portrait sessions, so I recommend considering both!

The advantage of a group session over an individual session is that you'll be able to hang out and take photos with your friends. Group sessions are a great way to create lasting memories with your best college friends; after all, it'll be much rarer to have everyone all in one place after college.

With an individual session, however, you'll have the entire time to yourself, meaning you get far more of a personalized photography experience. This would create better photographs overall as you'll get more tailored posing directions, more time to try out different angles, and more time to explore other locations and unique ideas.
I would recommend having a group session for more group-focused candid captures, plus a solo session to have your own individual portraits.
Should I Bring My Significant Other Or Family Members To My Graduation Shoot?
It depends on you! I see compelling reasons on either side, with points on the yes-side being:
They have been a big part of your journey, and you want to include them in the photos.
They are also graduating, and you want to do a group session with them.
Otherwise, these are a few reasons to keep it a solo shoot:
You want a more private experience, not having others watch on the side when you take photos.
You want to get a bigger variety of photos – taking photos with just yourself is much faster than with a group.
You would prefer to keep the session focused on you – after all, you can still schedule a separate family or couple's shoot later on.