Los Angeles Wedding Photographer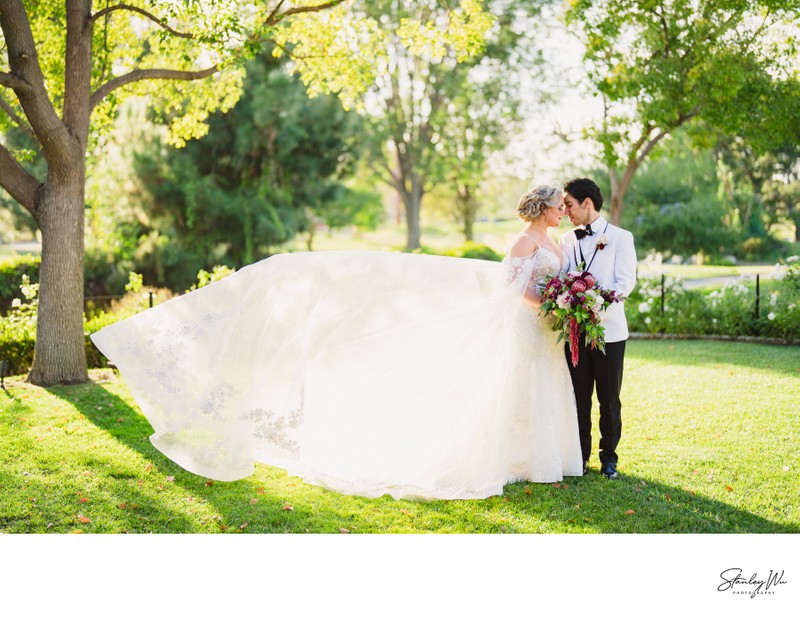 For more portfolio content, visit my portfolio page.
Congratulations on your engagement!
My name is Stanley, and I am a photographer specializing in creating bespoke wedding day photography experiences. I work with my lovely partner, Esther, as a husband-and-wife wedding photography team.
As a husband-and-wife team, we use our complementary abilities to make your experience exceptional – you'll get both beautiful photographs that genuinely reflect the feeling of your wedding day, and will enjoy the process too! We aim to capture all your laughter, tears, and heartwarming moments – we know that these memories will mean the world to you in the many years to come, so we have a specially-designed wedding-day process to make sure we capture every moment.
Because we want to ensure every couple we work with gets the fantastic service they deserve, we only take a limited number of wedding day reservations each year.
Wedding Photography Style
Our clients, friends, and family often describe our photography style as elegant, artistic, and timeless.
We believe our photographs should proudly display your elegance and beauty as the bride and groom. We recognize that sometimes it's a little daunting to step in front of the camera, especially if it's your first time. With our experience, we will be there to encourage you to show your best self. You are the star of the show, and you'll get beautiful images to match that fact!
We see every wedding as an opportunity to get create art, whether that's through dramatic compositions or light painting with the starry night sky. We are there to document the big day, but we'll also be there to create something unforgettable that reflects the magic of your love.
A great photograph transcends time. Although we love participating in popular trends, we design our images and products to be timeless. We believe that the most timeless formula to creating amazing wedding portraits is simple: tasteful composition and lighting and subjects who feel encouraged to be themselves.
Full Coverage of Your Wedding Day
Having covered over a hundred weddings over the years, we have the knowledge and experience to cover every event during your wedding.
We photograph in our typical wedding-day coverage:
Getting ready
Individual portraits of bride/groom before they see each other
Outfit details, including wedding dress, wedding veil, wedding shoes, suit or tuxedo, wedding bands and engagement rings, watches and jewelry, wedding invitations
First look
Wedding or bridal party photos
Bride/groom portraits (aka "romantics") before the ceremony and afterward
Wedding ceremony, including different perspectives down the aisle, ring exchange, and first kiss
Family portraits and photos with parents
Cocktail hour
Wedding reception, including grand entrance, first dance, parent dances, toasts, speeches, cake-cutting, bouquet toss, garter toss, open dance floor, grand exit
In other words, we'll always be sure to have full coverage of your wedding day, even if you don't provide us a shot list!
Multicultural Wedding Photographers
When choosing a photographer, it's important that they also understand your culture and traditions. It's important because they'll better understand the significance of a particular event, helping them create better storytelling images of your wedding.
We've worked with couples from many different cultures and backgrounds, including American, Asian, Atheist, Cantonese, Catholic, Chinese, Christian, East Asian, European, Hindu, Indian, Japanese, Jewish, Korean, Latinx, Religious, Secular, South Asian, Taiwanese, Vietnamese.
We are also exceptionally familiar with many East Asian customs and traditions – Esther and I both have an Asian American background.
Regardless of where you come from, we'll always be respectful of your culture – if we're not familiar, we will take the time to learn.
Venue and Location Expertise
The advantage of going with a photographer who is already familiar with your venue is that they'll already know the best angles and locations.
We've taken photos at many different venues throughout Los Angeles, Orange County, and Southern California including AC Hotel by Marriott Los Angeles South Bay, Bel-Air Bay Club, Beverly Hills Courthouse, Cicada Restaurant, Ebell Club Long Beach, Greystone Mansion, Hilton San Gabriel, La Venta Inn, Millennium Biltmore Hotel, Pasadena City Hall, Rio Hondo by Wedgewood Weddings, Serendipity Gardens, Sonesta Redondo Beach, Terranea Resort, The Clubhouse at Anaheim Hills, The Portofino Hotel & Marina, The Turnip Rose Promenade, The York Manor, UCLA, Walt Disney Concert Hall, Wayfarers Chapel, Westdrift Manhattan Beach Autograph Collection, and Westlake Village Inn.
This list is not exhaustive, these are just our recent favorites. We're very familiar with venues of all types, whether they are outdoors or indoors, rustic or urban.
If we haven't been to a venue, we always take extra time to do a location walkthrough before the wedding to discover the best angles, unique compositions, and venue layout. Not every photographer does this, but we do – we're very dedicated to making sure we can deliver the best product regardless of if we've been to your venue or not!
Pricing
Having a wedding in Los Angeles or Orange County isn't cheap, but we are here to help make your dream wedding more affordable.
Our wedding packages start at $3800 and include an engagement session. Couples often spend between $5500 and $9500, typically choosing to add one of our beautiful wedding album options as an heirloom memento of their wedding day.
---