USC Graduation Photoshoot Guide
Welcome! My name is Stanley and I am a graduation portrait photographer specializing in photoshoots at USC. This is my guide to help you get the best graduation photos at the University of Southern California.
In this guide, you'll find helpful tips and information on how to get to campus, where to park, and a list of iconic locations to take photos to maximize your grad photo experience at USC.
I believe I can help because of my extensive experience at USC. I have been photographing USC graduates since 2016 over hundreds of sessions, and some of my best friends are Trojans. I know the culture, understand student life, and most importantly, how to get some amazing graduation portraits that show the unique experiences you've had at USC.
---
---
Best Photo Spots at USC
Here is a list of the few iconic locations and my favorite secret places at USC. I've listed them below, along with several examples of past sessions and location-specific tips to help plan your shoot!
1. Tommy Trojan Statue
As one of the most iconic locations at USC, Tommy Trojan Statue is situated at the center of campus, right next to Bovard Auditorium and the Student Center. The Tommy Trojan statue depicts an ancient Trojan warrior with a sword and shield ready for battle. Tommy makes for a great background to commemorate your school spirit as a USC Trojan. Bonus points if you can mirror his majestic pose!
Tommy Trojan maps location linked here.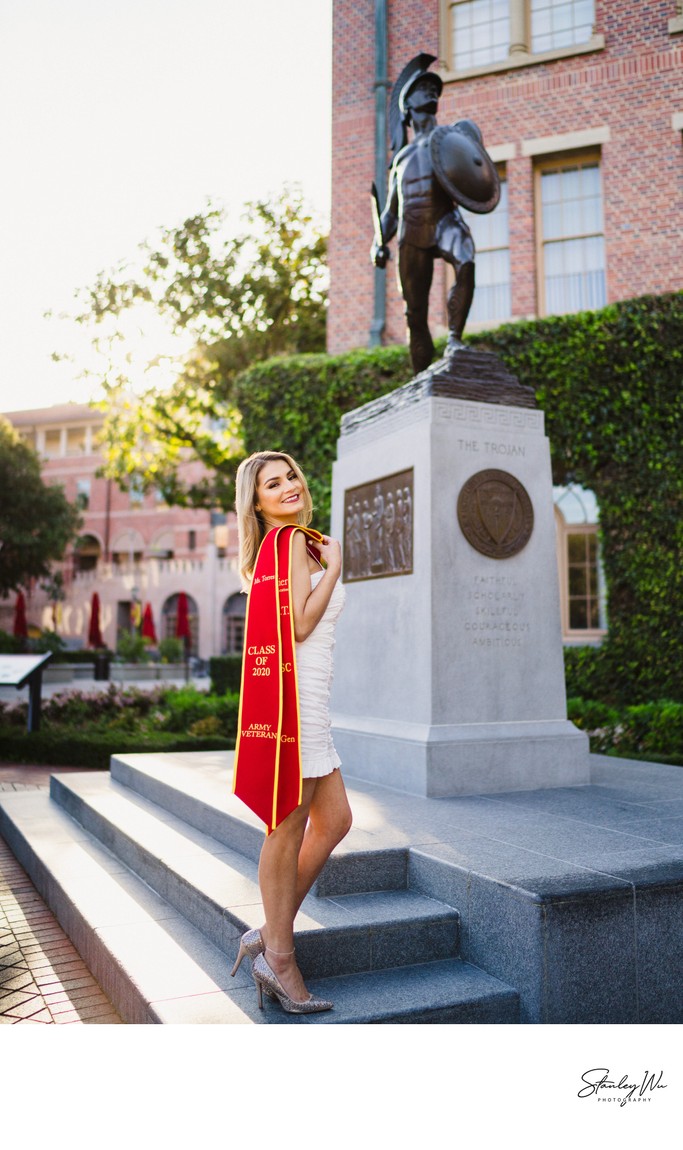 2. Steps of Troy
The Steps of Troy are located at the Ronald Tutor Campus Center, a two-minute walk from Tommy Trojan. Engraved on the steps of Troy are the five virtues that embody the spirit of USC: Faithful, Scholarly, Skillful, Courageous, and Ambitious.
Steps of Troy maps location linked here.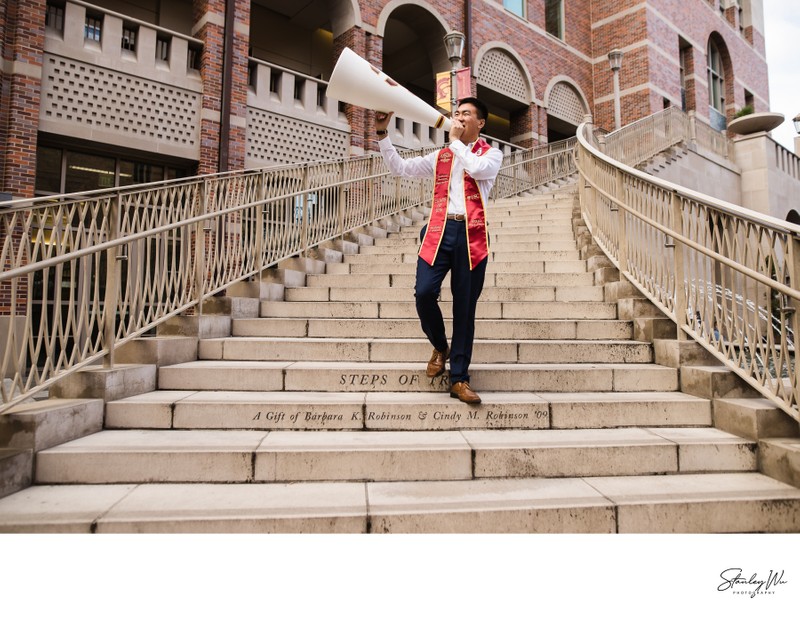 3. Traveler Statue
Although Tommy often takes the limelight, Traveler the Horse is the official mascot of USC. You'll often see a white horse with a Trojan warrior atop galloping around the Coliseum during game days. Taking a portrait with the majestic Traveler statue can help show your school spirit. Traveler is located right across from the Tommy Trojan statue.
Traveler Statue maps location linked here.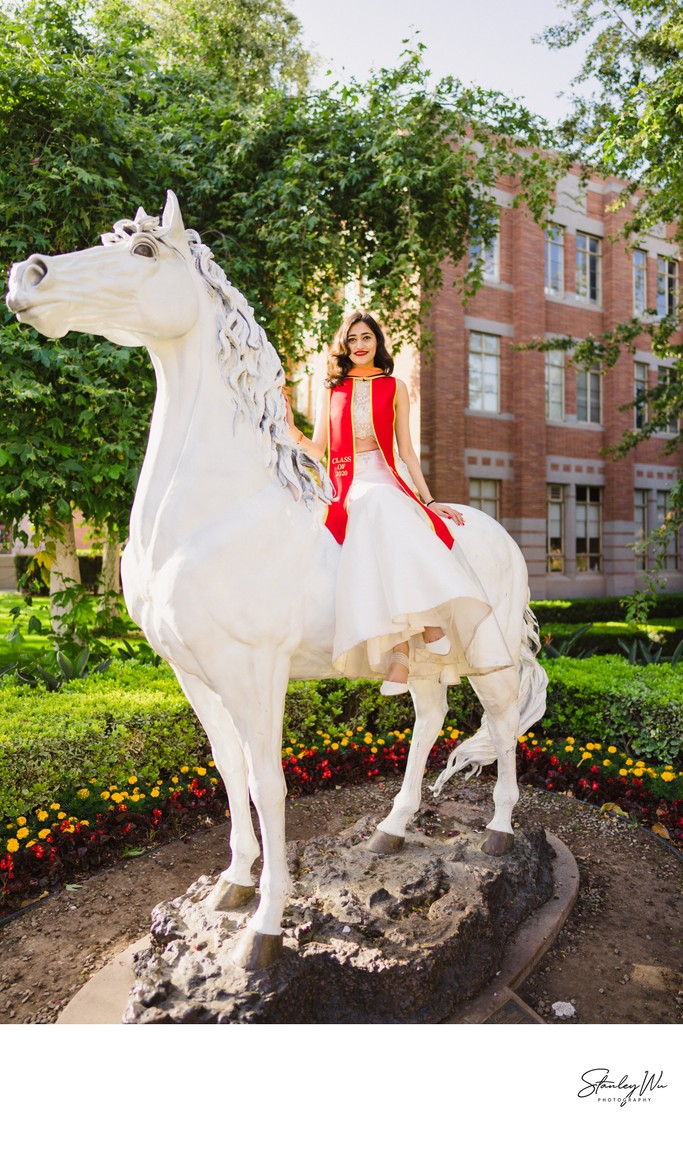 4. Alumni Park
One of the most beautiful locations at USC, the Alumni Park features a mini rose garden, the Prentiss Memorial Fountain, and stunning backdrops of Doheny Memorial Library and Bovard Auditorium, two landmarks where the park is situated between. Note that the mini rose garden is not available every month of the year; USC only plants the flowers seasonally. Luckily, spring graduations do coincide with their planting and blooming schedule.
Alumni Park maps location linked here.

5. Center for International & Public Affairs (CPA)
The Center for International and Public Affairs itself is a testament to the diversity of the USC student body. There are 108 flags representing the 100+ home countries of students. As of 2021, USC has removed the flags. However, the grand hallways still provide an excellent backdrop for some unique portraits.
Center for International & Public Affairs maps location linked here.

6. Mudd Hall of Philosophy (MHP)
The Mudd Hall of Philosophy features beautiful Tuscan-style architecture, with classic red bricks and stone pillars to complete the overall vintage collegiate look. Graduates often take pictures in the courtyard and hallways of MHP.
Mudd Hall of Philosophy maps location linked here.
7. Doheny Memorial Library
Located centrally on campus adjacent to Alumni Park, the vintage-styled Doheny Library makes for an excellent photo spot. Many graduates take their photos in front of the central entrance arch.
Doheny Memorial Library maps location linked here.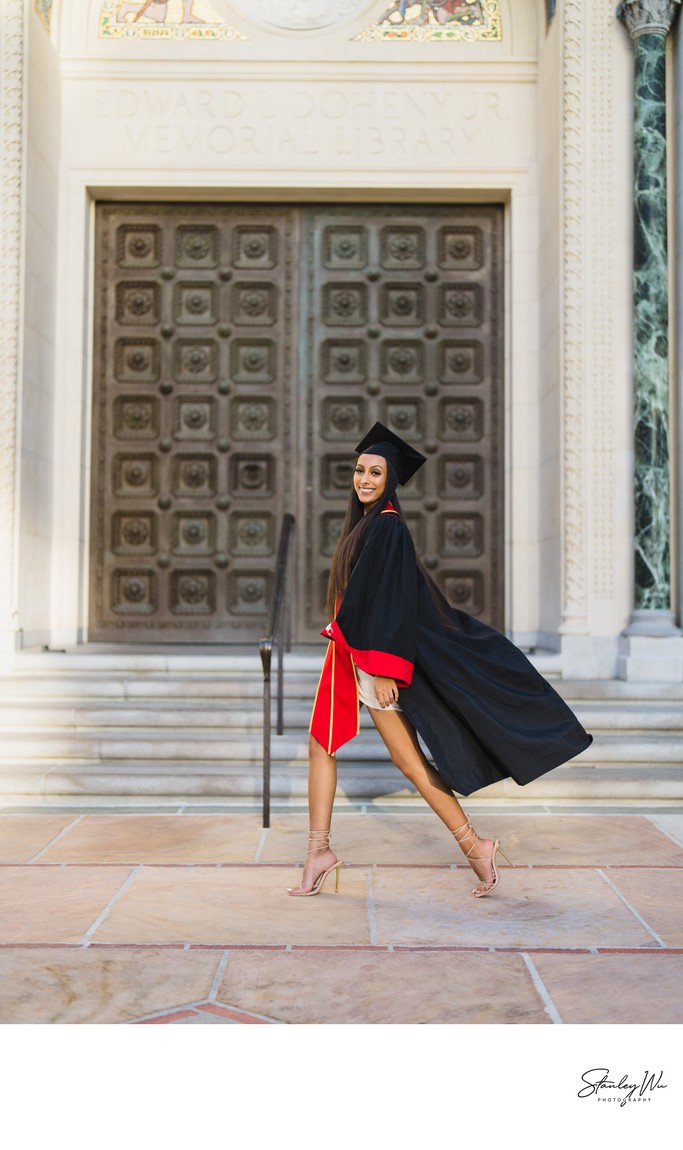 8. School of Cinematic Arts
You might not be a film major, but I highly recommend taking a tour of the School of Cinematic Arts (SCA). Despite being a newer construction, the SCA succeeds in maintaining the beautiful red-brick vintage theme of USC. The SCA features fountains, arches, and a majestic statue of one of Hollywood's earliest icons, actor Douglas Fairbanks. All of these provide fantastic backdrops for graduation portraits.
School of Cinematic Arts maps location linked here.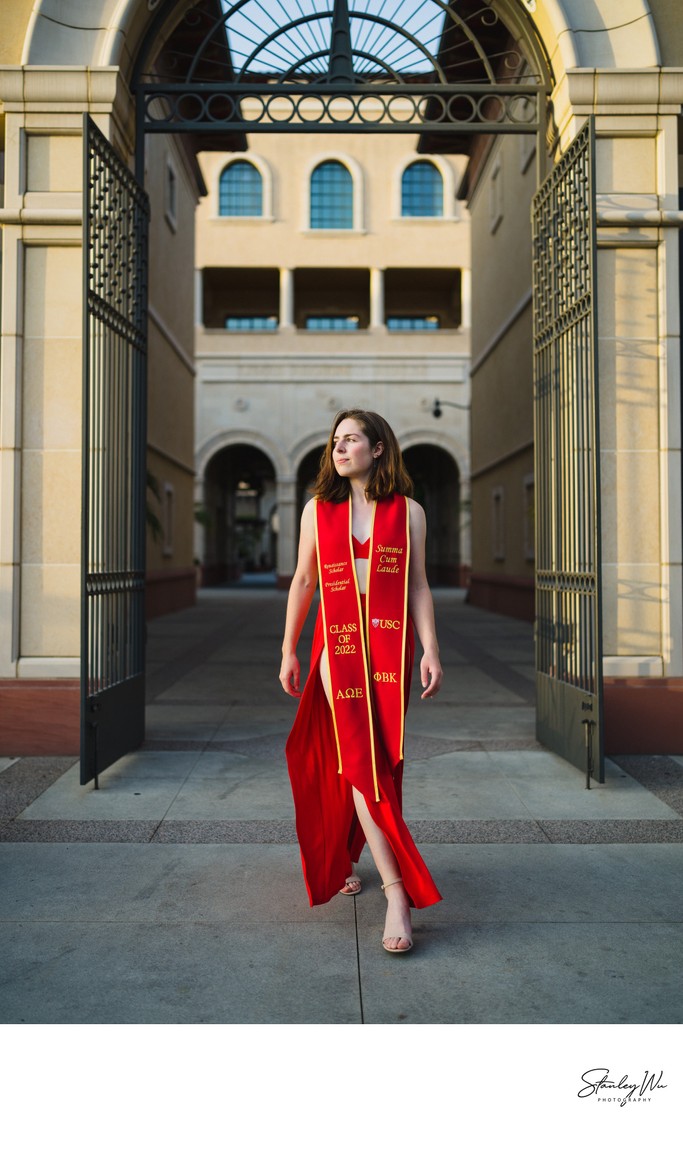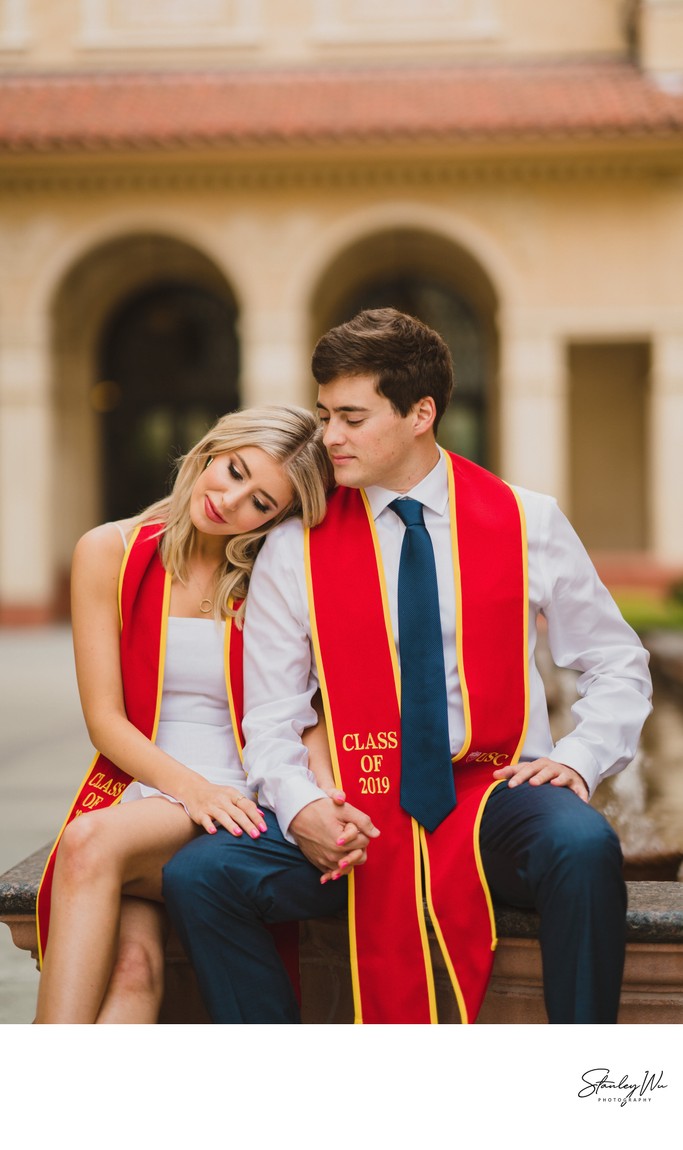 9. Bovard Administration Building (ADM)
The George Finley Bovard Administration Building is a historic building, first completed in 1921. It houses both administrative offices and the Bovard Auditorium, a popular performance venue also one of LA's oldest. The Bovard Building was also featured in a few notable films, such as Legally Blonde. Graduates often take pictures in front of the central archway, with the building's iconic architecture as the background. ADM is located near the center of campus, right next to the Tommy Trojan statue and Alumni Park.
Bovard Administration Building maps location linked here.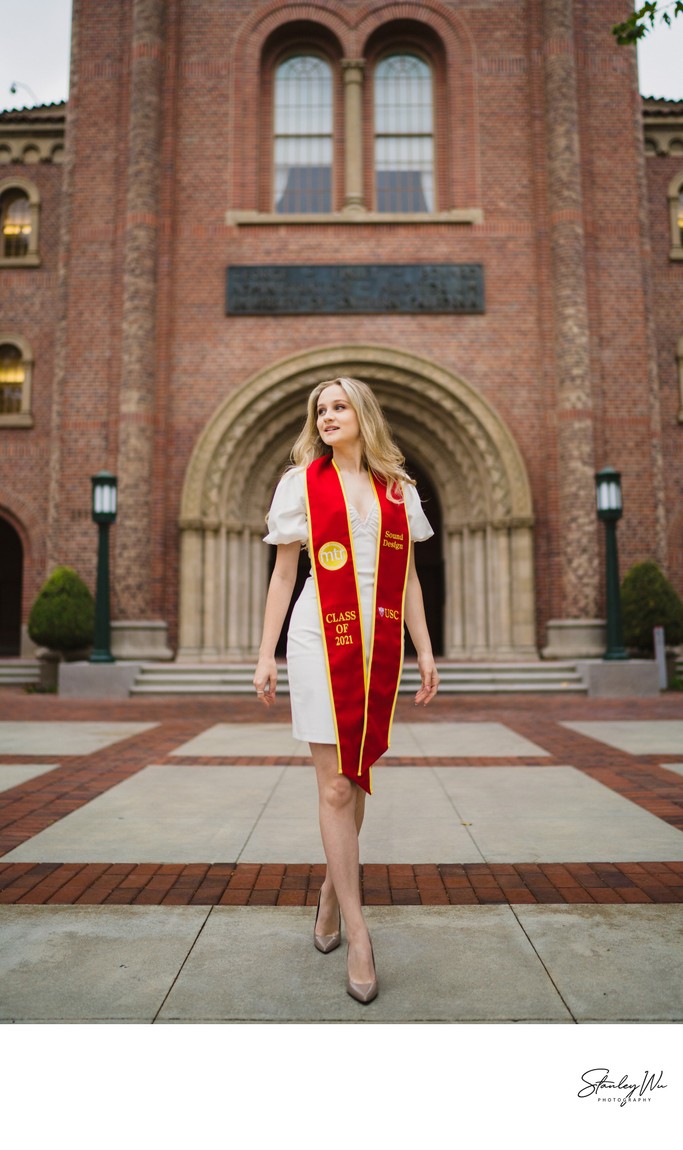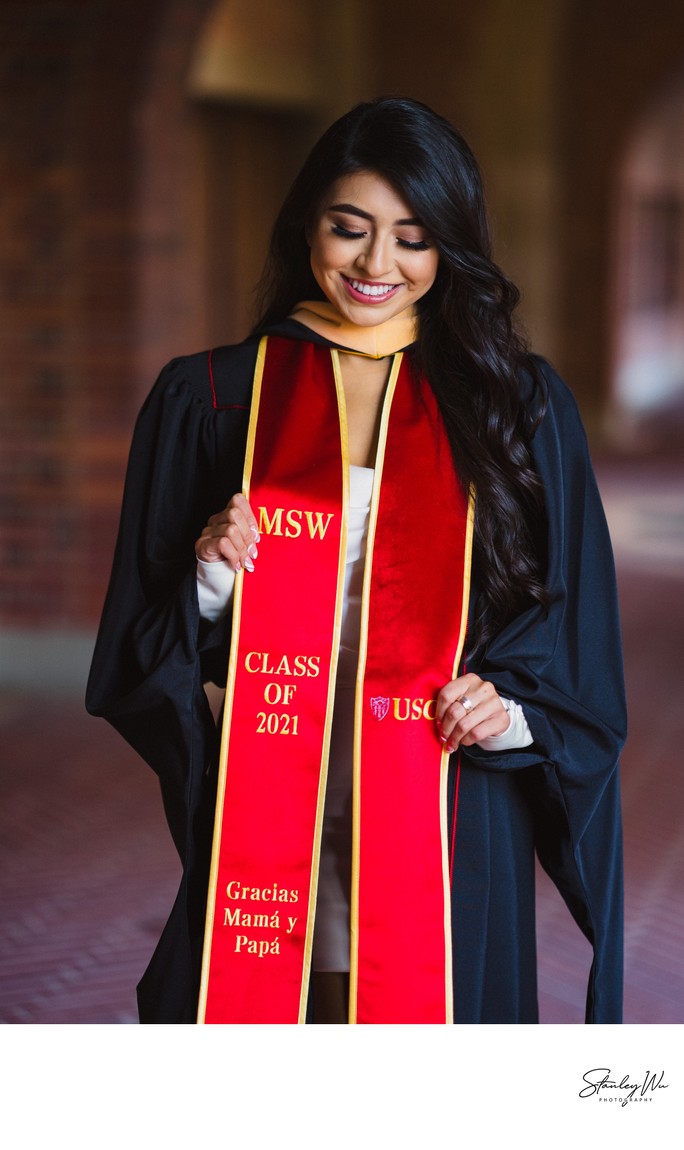 10. Exposition Park Rose Garden
Although the Exposition Park Rose Garden is not technically a part of the USC campus and belongs to the City of Los Angeles, I would highly recommend the garden as a beautiful backdrop for photos. The garden features a wide variety of roses of every color. The roses don't bloom year-round and typically start blooming in March or April through early summer.
Exposition Park Rose Garden maps location linked here.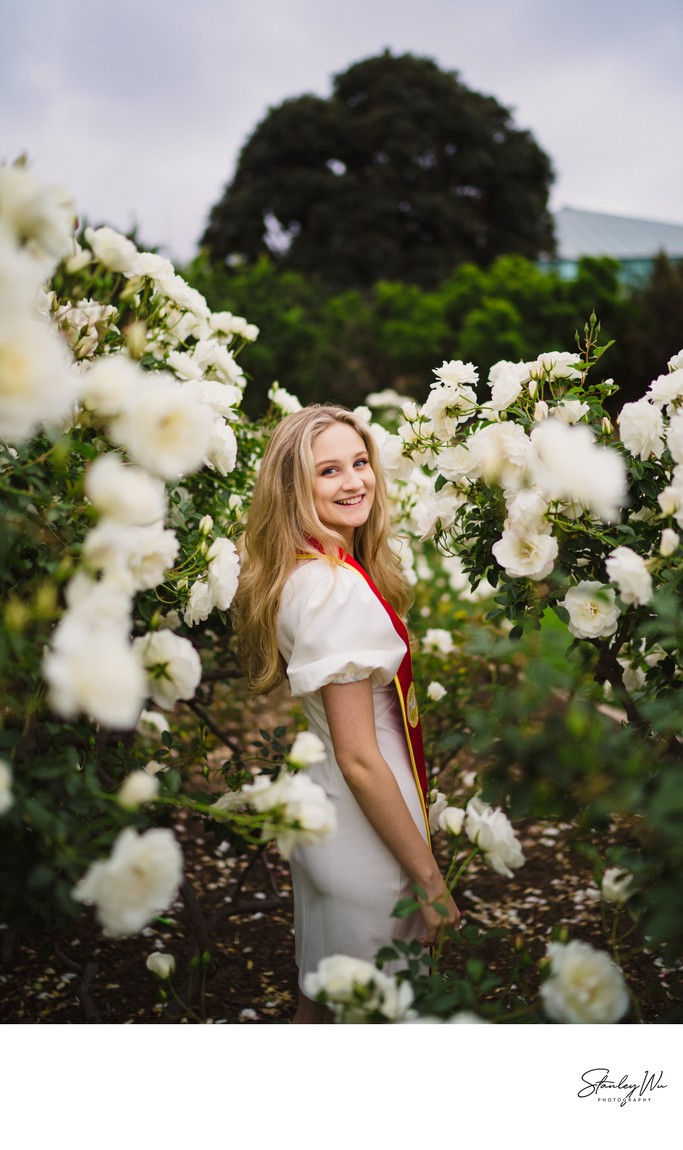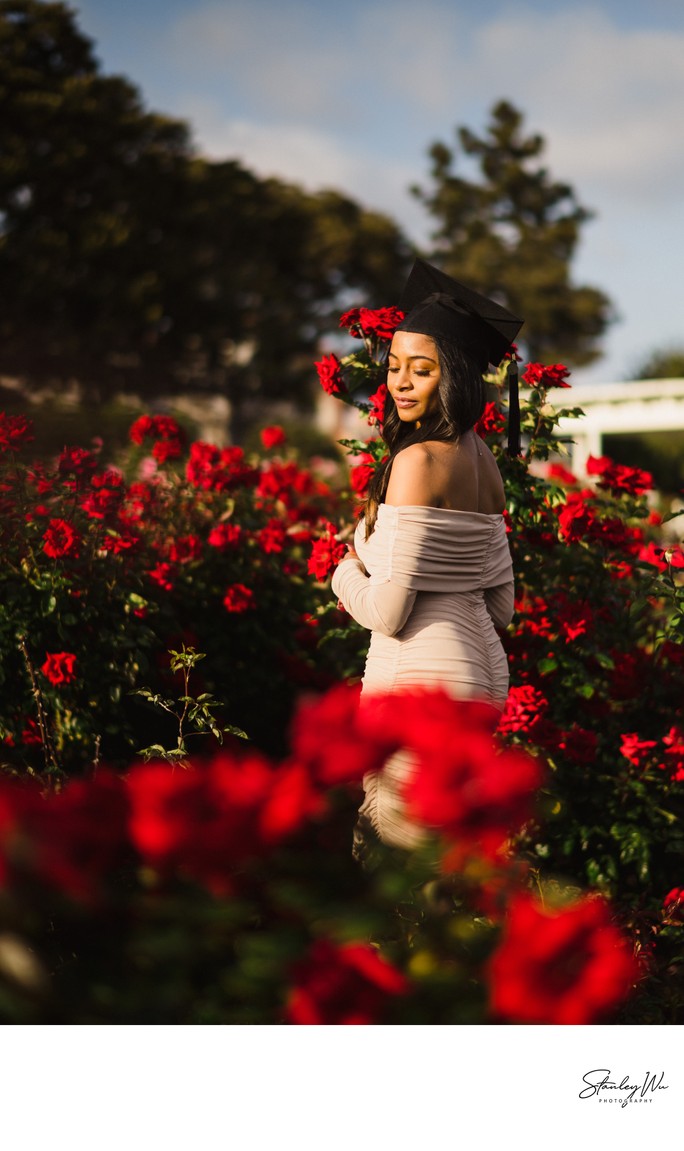 ---
Major-specific locations
Of my many USC portrait sessions in the past, I've worked with students from almost every major and degree program. Apart from the general locations above, I highly recommend leaving time during your session to include your study-specific locations, such as:
---
About USC
The University of Southern California has a few campuses around Los Angeles, with two primary ones. The main campus where they host the majority of their undergraduate, graduate, and professional programs is the University Park campus. The second campus where USC provides many of its health-related programs is the Health Sciences campus.
USC University Park Campus (Main Campus)
If you are not sure which you should visit, I recommend planning your session to take place at the main campus as it'll have more iconic landmarks and backgrounds than the Health Sciences campus. This guide is aimed at planning for a session at the main campus.
Accessing USC Main Campus
USC University Park campus, the main campus of USC, is located within a fifteen-minutes drive of Downtown Los Angeles. As with any place in a sprawling urban environment, it can be challenging to figure out how to get to your destination with many one-ways, dense vehicular traffic, and multiple entrances to campus. Worry not! It'll be much easier with the recommendations I provide below.
For the most accessible entry by car, I recommend entering through the north side gate of campus at the intersection of W Jefferson Blvd and McClintock Ave. This is one of the only entrances at USC open 24/7 - other gates may occasionally close depending on the event schedule. During the pandemic lockdowns, this was the only entrance open to cars. You can view a list of all gates and their hours of operation here.
If you enter by foot during the daytime, you'll have many entrances on each side of campus. Be sure to map a direct route toward your meeting spot so you won't have to take many detours. On hotter days, I recommend entering by car and paying for parking (or getting dropped off); that way, you won't have to sweat right before your photo shoot. Otherwise, it takes around 15 minutes to walk to the center of campus from the USC Village.
The ideal way to get onto campus would be to get dropped off. Depending on where you'll be meeting your photographer, the best places to get dropped off for your photo shoot will be on Downey Way, McCarthy Way, 34th St, and USC Pardee Way. These locations are all close to the central areas of campus.
Do NOT get dropped off on Exposition Blvd – although this is very close to the main parts of campus, this is a dangerous location to stop. Cars typically drive very fast on Exposition and do not stop. Stopping here is also illegal. I've seen accidents happen here, and I've also seen people get ticketed by police for stopping.
Where to park at USC
There are several parking structures and lots open to the public. A few convenient ones that are available to the public include:
I've also included a few google maps links for easy directions above and throughout this guide.
Be sure to arrive early to account for parking and walking to your destination. There are Text2Park and Pay-by-Plate kiosk options available to pay for parking.
The daily rate for parking at USC is $20.00/day. The hourly rate is $4.00/hour. For current information regarding parking at USC, visit the USC Transportation website.
Another convenient parking location would be at the underground structure at USC Village. You can get two hours of free parking with validation at Target, Trader Joe's, or other stores in the Village. It takes around 15 minutes to walk from the USC Village to the center of campus.
You can also park via street parking outside campus in the neighborhoods north (past W Jefferson Blvd) and west of campus (past Vermont Blvd). There is also metered parking on those streets as well If parking outside of campus; I would budget extra time to find parking and walk to campus.
Best time to take grad photos at USC
When planning your graduation portrait session, timing can significantly affect your experience. After all, we're all hoping for an ideal experience with an empty, beautifully landscaped campus with warm sunshine. While we can't precisely predict the weather (although chances here are good that it'll be sunny), we can generally plan for the other elements.
The best times to take graduation photos during the spring season at USC will be in mid-March around spring break, early April before most graduates take their portraits, and after the USC commencement week in late May.
These times will help avoid the high volume of other concurrent graduation shoots in April and May. For example, Mudd Hall typically has a 30min-1hour line out the door for taking pictures in the central hallway during this time period. You'll also be avoiding the commencement stage setups and scaffolding they start constructing in many areas within the school in early May. They typically block off the entirety of Alumni Park and many other locations in preparation for commencement week.
Other best times to take photos at USC are during the Summer, Fall, and Winter seasons, particularly during academic breaks. Most graduates take photos during the spring, so we can enjoy a beautifully empty campus at many other times of the year.
If your schedule only allows for a few specific dates during the busiest times of graduation season, no worries! I excel at helping us find beautiful backgrounds and locations that show off the grandeur of USC regardless of the level of foot traffic. Contact me to learn more!
Lodging Near USC
Are you coming from out of town? Here are a few nearby locations to stay in while you visit USC. Be sure to make your reservation early to ensure availability and lower rates.
Other hotels I would recommend are located 15 minutes away by car in Downtown LA.