UCLA Graduation Photos Guide
Welcome! My name is Stanley and I am a UCLA graduation portrait photographer. This is my guide to help you get the best graduation photos at the University of California, Los Angeles.
In this guide, I'll provide information on the easiest ways to get to campus, including directions and parking, and a list of top sites to visit to maximize your grad photo experience at UCLA.
I believe I can help because of my extensive experience at the school. I am a UCLA alumnus – I have over a decade's worth of experience with the university. I've also photographed over a thousand graduates, worked with many campus and student organizations (I'm a registered UCLA Vendor), and lived there during my four years as a UCLA student. I know the culture, understand student life, and most importantly, I can help you get some beautiful graduation portraits that show your unique experiences at the university!
---
---
Best Photo Spots at UCLA to create amazing graduation pictures
Here is a list of the few most iconic locations and my personal favorite places at UCLA. I've listed them below along with several examples of past sessions and location-specific tips to help plan your shoot!
The official mascot of the UCLA Bruins is the Bruin Bear, or more specifically, Joe Bruin and Josephine Bruin, two bear-costumed mascots representing UCLA at every game. A statue of the Bruin Bear stands proudly in Bruin Plaza, next to the UCLA Student Store, Ackerman Union, and the John Wooden Center. The statue, standing ten-foot-long and six-foot-tall atop a concrete platform, remains accessible to the public all year round. The only time the statue is blocked off is during the days or weeks preceding the rivalry game with USC. The Bear makes for an excellent backdrop to show off your Bruin pride!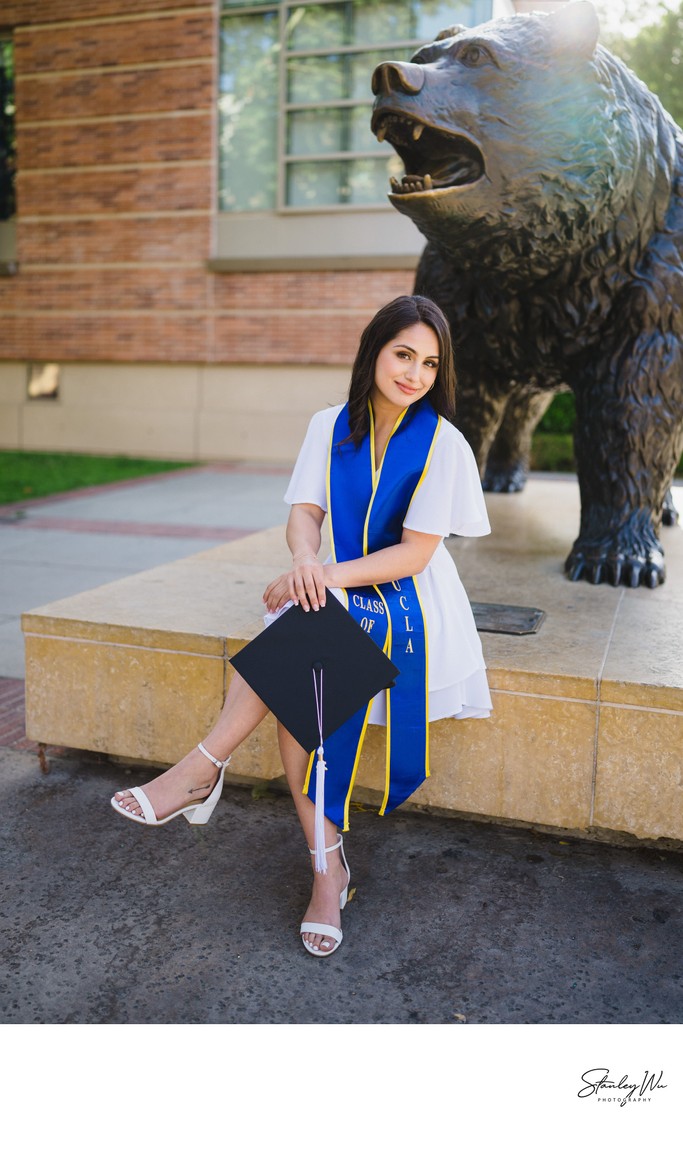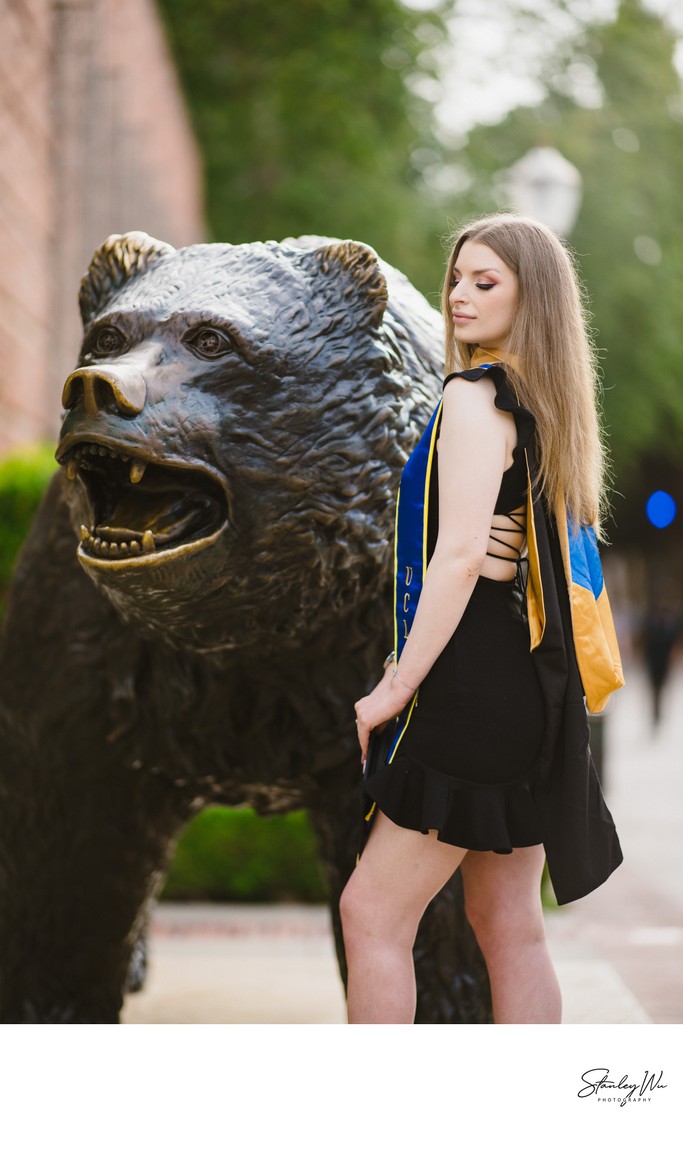 A popular photo spot UCLA features is Janss Steps. Although these steps might be renamed soon, they'll continue to be the most iconic set of staircases at UCLA and an excellent photo spot. The steps connect two of UCLA's central plazas, Wilson Plaza and Dickson Plaza. The best times to take photos on the steps are during sunset and sunrise. Framing your shot one way, you'll get a magnificent view of Wilson Plaza. Composing the image the other way, you'll get an incredible view of Royce Hall.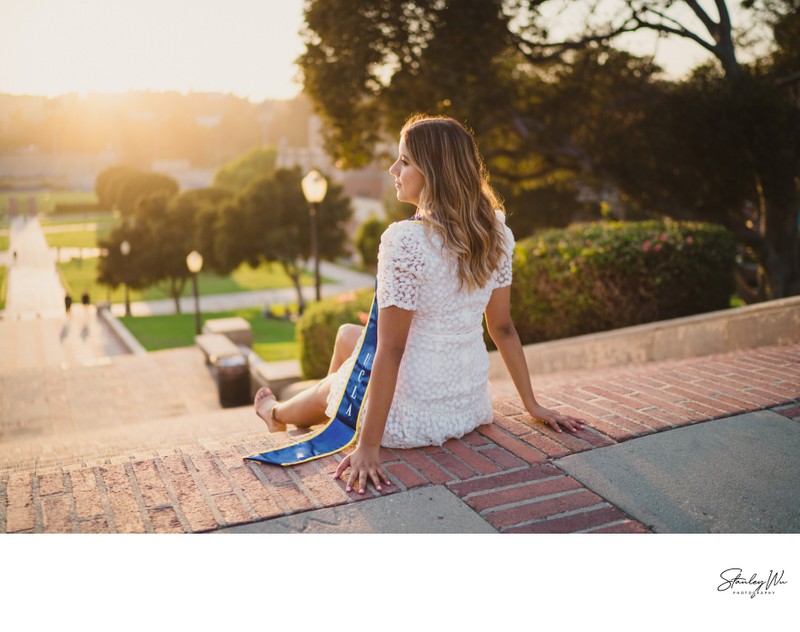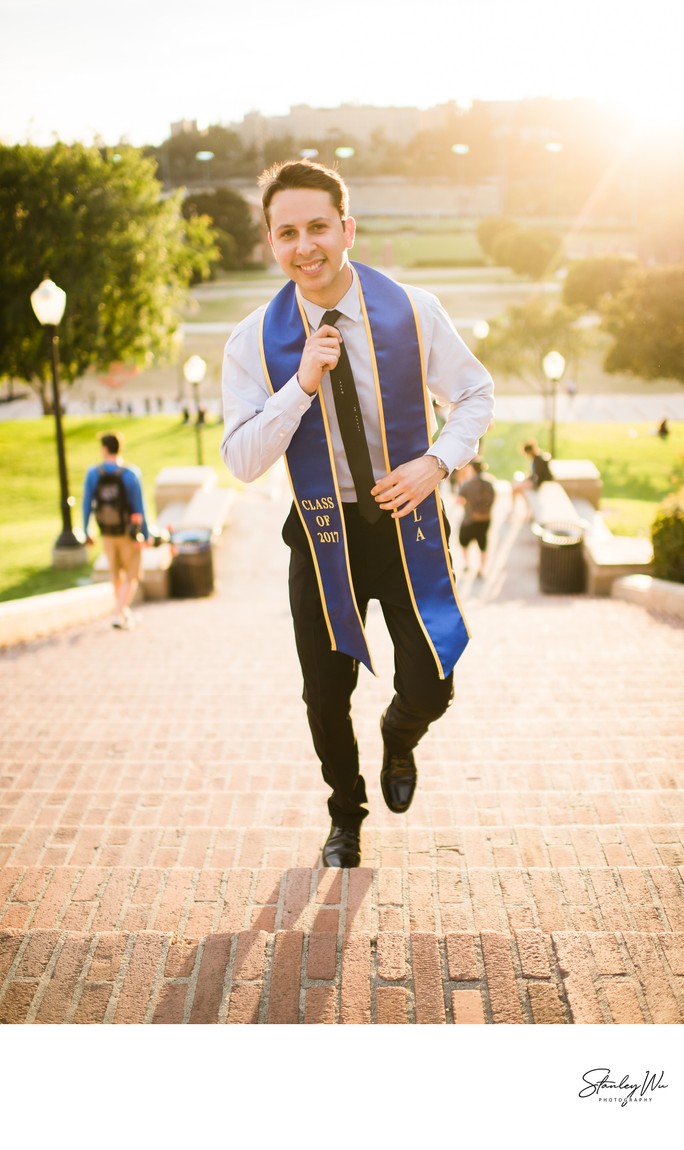 Although the Franklin D. Murphy Sculpture Garden isn't as well known as other iconic locations around UCLA, it remains a peaceful and picturesque location to take your portraits. The Sculpture Garden features over 70 distinct sculptures by renowned artists and a beautiful set of carefully curated flora, such as purple Jacaranda trees, which look stunning in full bloom around May and June. The Sculpture Garden is located on the north side of campus next to the School of Theater, Film, and Television and the Broad Art Center.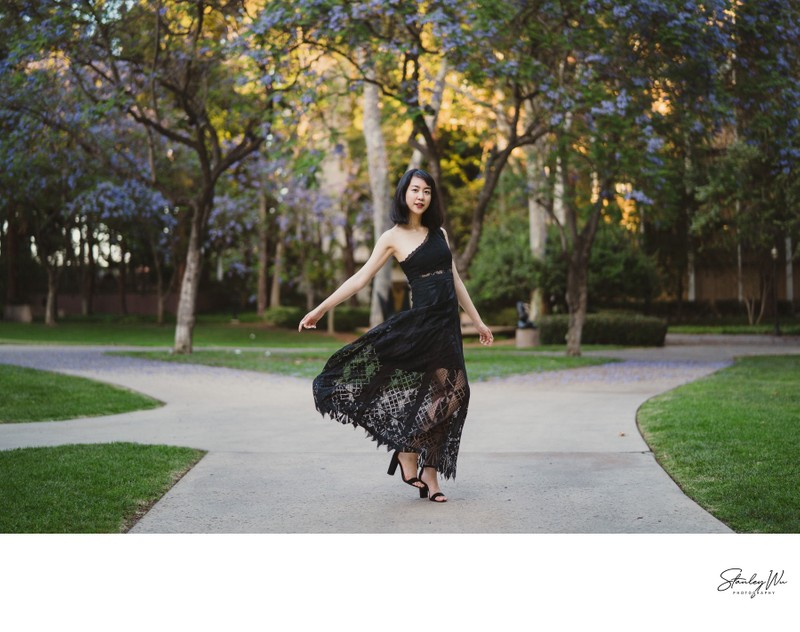 Although the university has several libraries, the one that is the most iconic is Powell Library. Situated across from Royce Hall, Powell Library is similarly built in the Romanesque Revival architectural style with its large, round arches and extensive use of brickwork. Easily one of the most dramatic backdrops on campus, Powell Library offers gorgeous views through both its front facade and the classically-styled reading room on the second floor.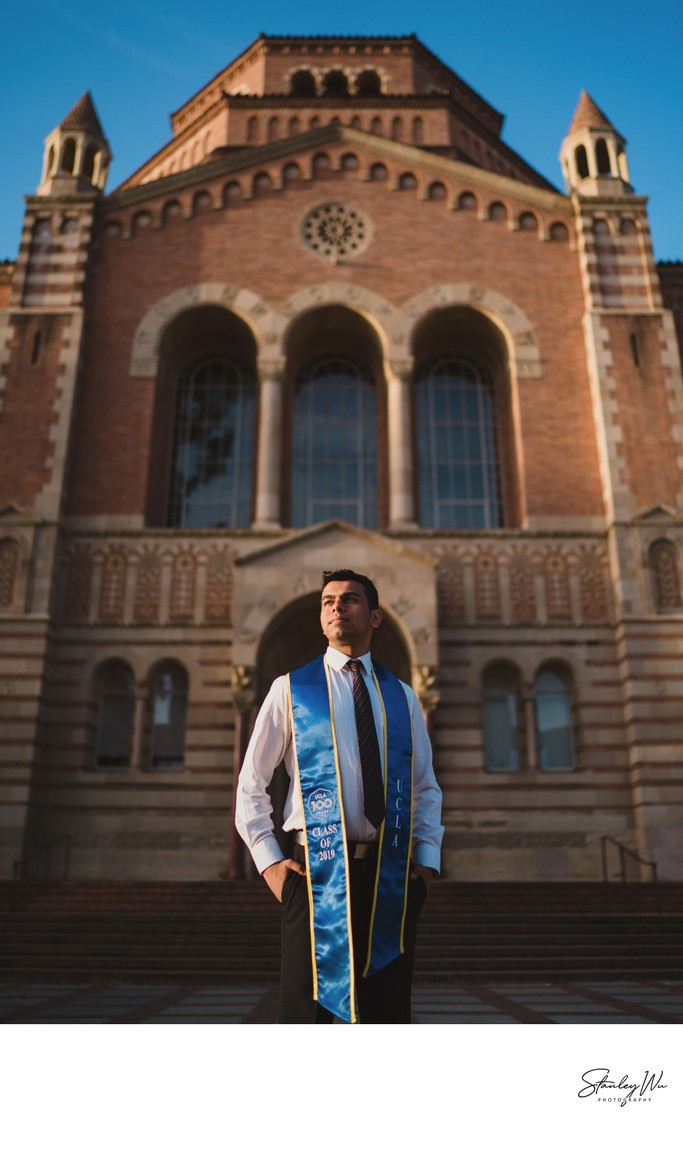 Another beautiful location at UCLA is Kerckhoff Hall. With unique architecture and a popular coffee shop, Kerckhoff Hall is an excellent location to take graduation portraits. A fun fact is that a few scenes from the movie, "Legally Blonde", were filmed in front of the Hall.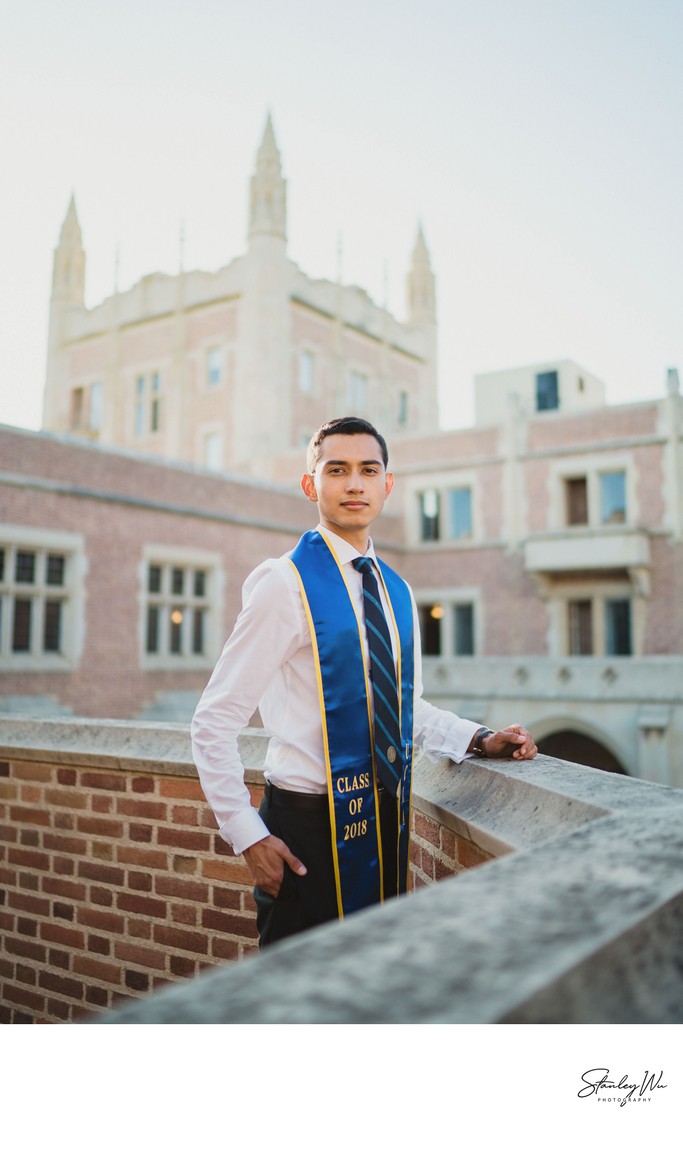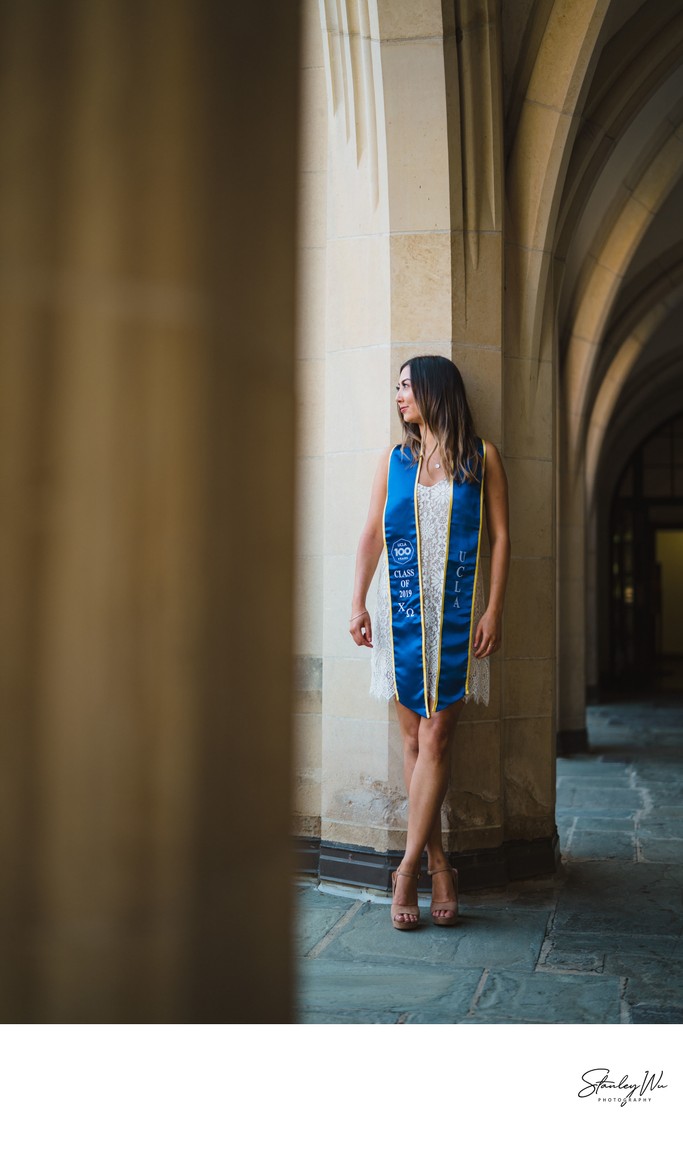 Shapiro Fountain sits directly between Royce Hall, Powell Library, and Janss Steps. The fountain acts as a wonderful centerpiece linking the three landmarks together, and you'll be able to photograph each of the landmarks as a background while at the fountain. Keep in mind that the fountain is occasionally turned off for maintenance or conservation reasons.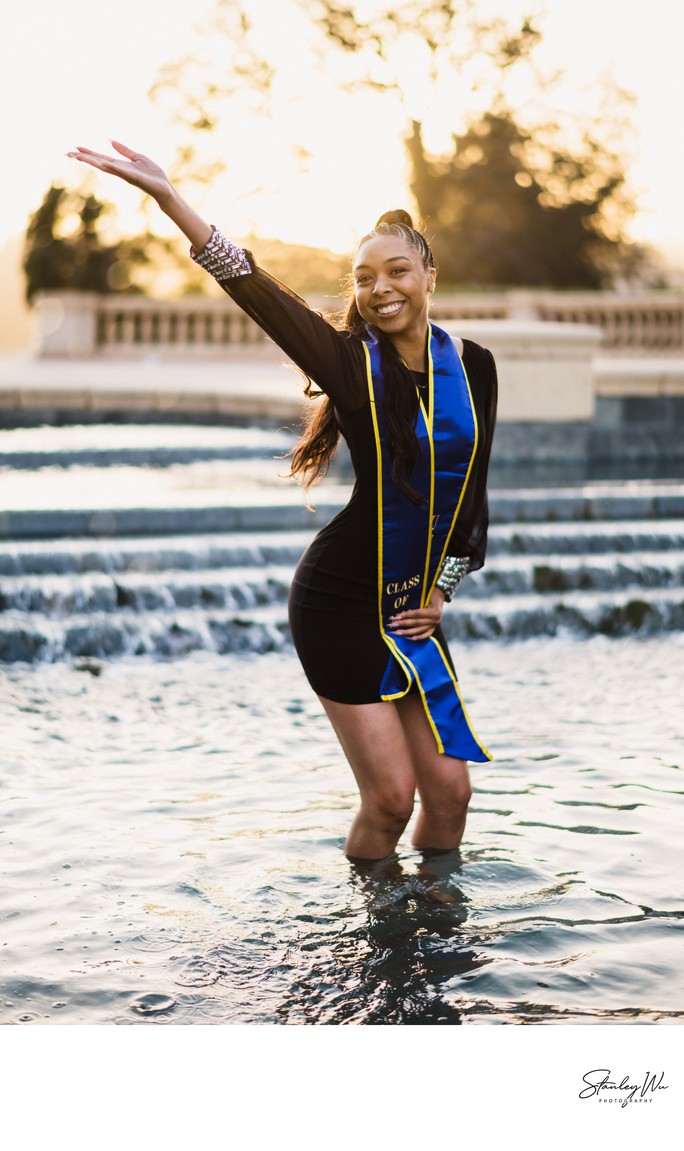 If there were just one spot to recommend to get at UCLA, it would be Royce Hall. The Hall remains UCLA's de facto architectural poster building with its majestic facade and twin towers. The building was one of the first buildings on campus and completed construction in 1929. It was modeled after Milan's Basilica di Sant'Ambrogio (Powell Library was also built in the same style). Royce Hall functions primarily as a performance venue and has an illustrious history for the performing arts – you'll often find days where there will be a line out the door for its show attendees. Royce Hall would be the top pick if there were just one location to recommend for a portrait session at UCLA.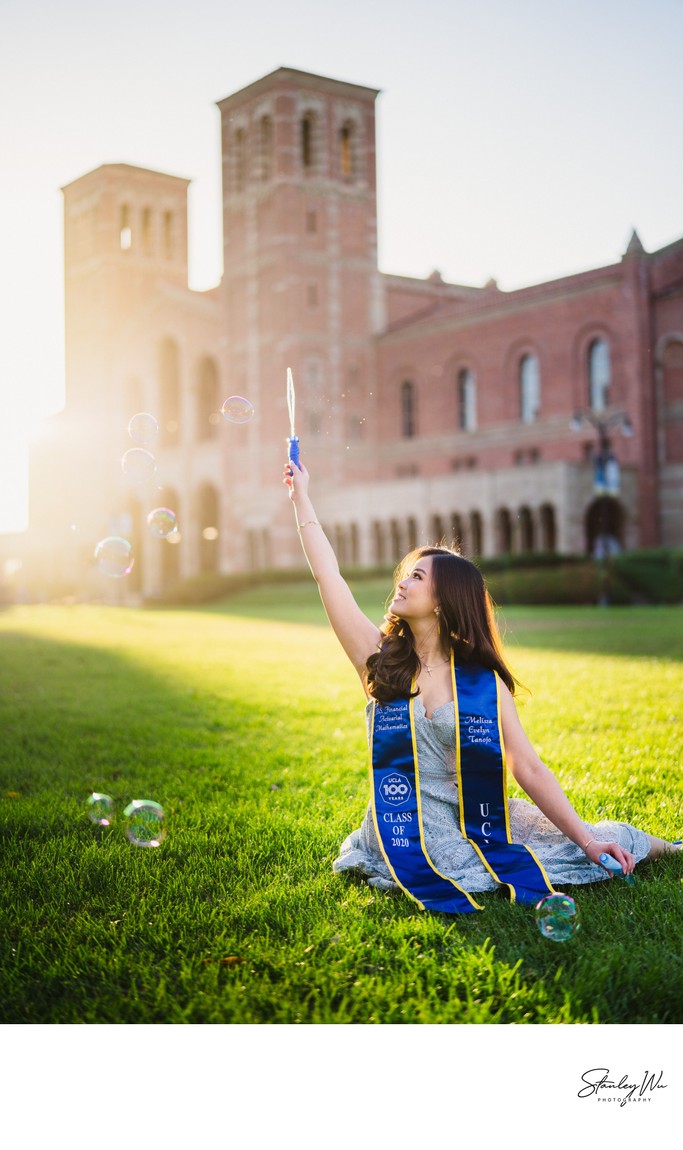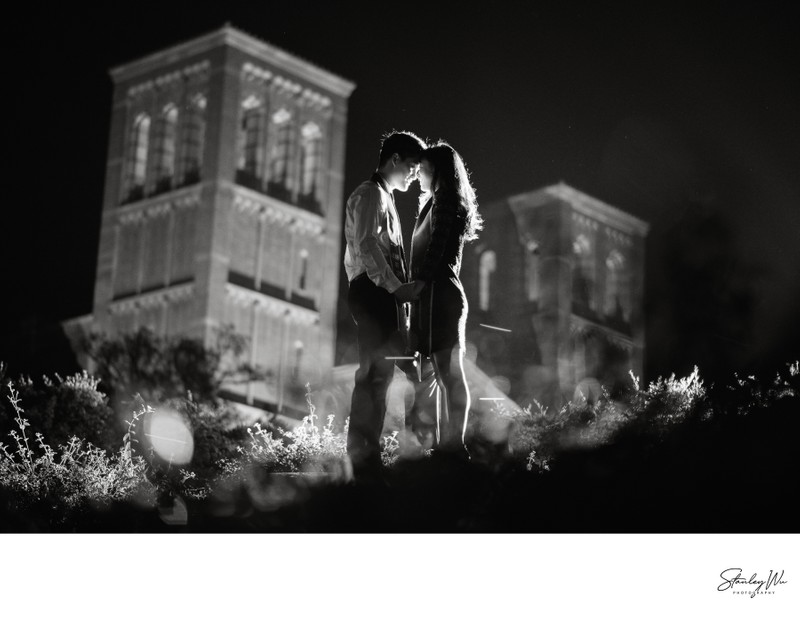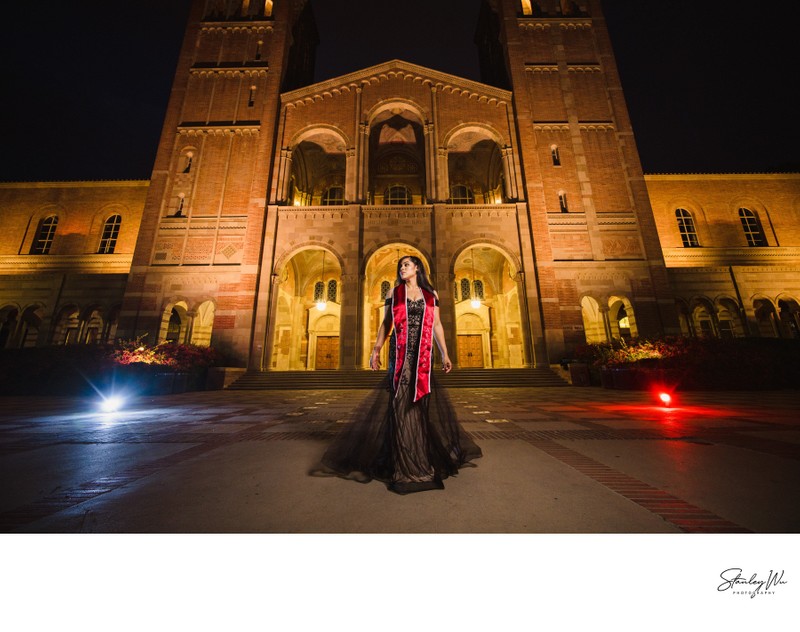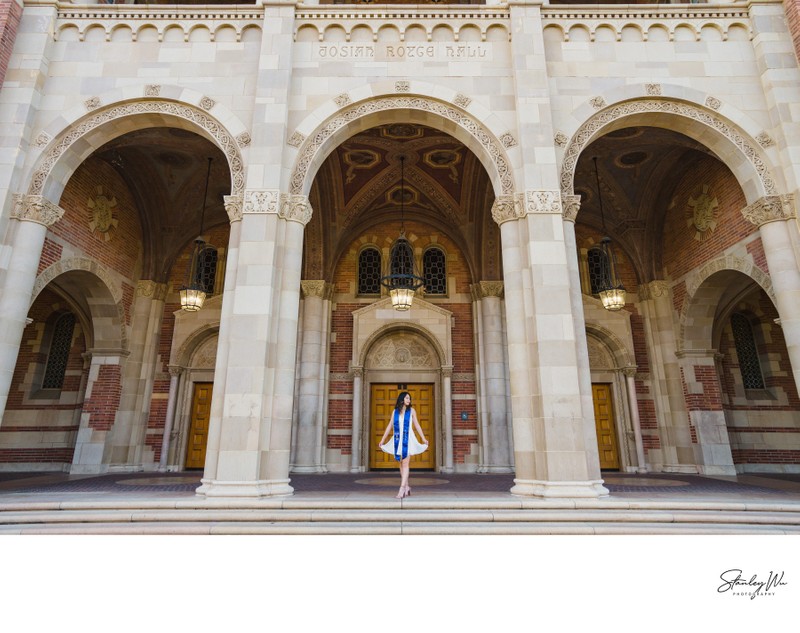 ---
Major-specific locations
Apart from the general locations above, I highly recommend leaving time during your session to include your study-specific locations. Some of the majors/schools I've worked with at UCLA and can suggest include:
This list is not exhaustive, but I'll happily include your specific school in our session plan. Often, incorporating these will make for some super-creative results!
---
Best Time To Take Grad Photos At UCLA
When planning your graduation portrait session, timing can significantly affect your experience. After all, we're all hoping for an ideal experience with an empty, beautifully landscaped campus with warm sunshine. While we can't precisely predict the weather (although chances here are good that it'll be sunny), we can generally plan for the other elements.
The best times to take graduation photos during the spring season at UCLA will be in late March around spring break, in April before most graduates take their portraits, and after the UCLA commencement week during mid to late June.
These times will help avoid the high volume of other concurrent graduation shoots in late April, May, and early June. For example, highly popular locations such as Royce Hall, Janns Steps, Bruin Bear, Shapiro Fountain, and others typically have a 15-30 minute line for taking pictures at these spots. You'll also avoid the commencement tent setups they start constructing in many areas within the school in June. They typically block off Royce Hall and many other locations in preparation for the main commencement week. UCLA also has earlier commencement ceremonies for their law school, medical school, and other graduate and professional programs, which will heavily affect foot traffic on campus.
Other best times to take photos at UCLA are during the Summer, Fall, and Winter seasons, particularly during academic breaks. Most graduates take photos during the spring, so we can enjoy a beautifully empty campus at many other times of the year.
If your schedule only allows for a few specific dates during the busiest times of graduation season, no worries! I excel at helping us find beautiful backgrounds and locations that show off the grandeur of UCLA regardless of the level of foot traffic. Contact me to learn more!
---
About UCLA Campus
The University of California, Los Angeles is the nation's top public university and was established in 1919. The school is situated in the vibrant neighborhood of Westwood, bordering Bel Air, Beverly Hills, Brentwood, and Century City. It offers various undergraduate, graduate, and professional programs and is a leading research institution in many fields. It is also the nation's most popular four-year university, with 149,700 freshman applications for 2022 Fall admissions.
Although I'm more than happy to heap on more accolades for my alma mater, my point is that UCLA is an excellent school, and it's a huge accomplishment to have completed your degree there. It's only natural to want to celebrate, and a great way to celebrate would be with a portrait session!
One unique aspect of UCLA is the beautiful red-brick architectural style that applies to almost all campus buildings. Wherever you walk on campus, you'll find that the buildings have a consistent design style, with well-maintained greenery all around to match the overall look. That being said, it's very easy to find a photogenic background at UCLA.
The most iconic locations, however, are clustered around the center of campus at Dickson Court, near Royce Hall and Powell Library. For first-timers visiting UCLA, it might be a challenging experience with limited parking and heavy vehicular traffic. But no worries! I can provide best practices and tips to consider when visiting UCLA for your photo shoot to maximize your experience.
How to get to UCLA
The official address of UCLA is 405 Hilgard Ave, Los Angeles, CA 90095. However, it'll be much easier to map directly to where you want to go since the 419-acre campus occupies an extensive area, around a fourth of Westwood's total.
Since it's a public university, the campus is accessible 24/7, barring any special events that may occur.
The two best ways to get to your photo shoot on campus, which is likely to take place near the center, would be to drive and park in a parking structure or get dropped off by rideshare or a friend. Walking from the dorms or Westwood apartments is not recommended as it's a long walk and you might be sweating if it's a hotter day. UCLA is also known to be a hilly campus, with many stairs and ramps. It would be best not to plan a workout right before your photo session.
The best places to get dropped off are at the UCLA Gateway Plaza or the UCLA Flag Pole in Dickson Court. You'll have to pre-plan your route as the Gateway Plaza requires you to enter from the south, whereas the Flag Pole requires an east entrance. These locations are close to iconic places around campus you'll want to be photographed in front of.
Where To Park At UCLA
Parking at UCLA can be challenging at first, with almost no available street parking anywhere on campus. Most street parking is reserved for faculty, employees, and students with special permits.
The majority of visitor parking is offered through various parking lots throughout campus. Once you identify the visitor parking lot closest to where you want to go, it's relatively easy to navigate to your destination. Most parking structures also have designated zones for visitor parking and Bruin ePermit parking. You'll want to be sure to park in the correct zone and pay for the right amount of time.
The cost for parking at UCLA is $3.00/hour at most parking lots. They also have a day rate of $14.00/day. The cost can vary depending on which parking lot you choose. You can see current rates for parking at UCLA on their website.
Parking enforcement at UCLA is also known to be very strict. I would pay special attention to any posted signs and designated areas. After all, UCLA is also one of the five largest employers in Los Angeles – if you add the number of employees to the 45,000 students it has, it adds up to a daily traffic amount greater than that of a small city. It's easy to see why they can be strict.
The visitor parking lots that I recommend are the ones closest to the center of campus. These parking lots include Parking Structure 2 (enter from Hilgard), Parking Structure 4 (enter from Sunset), Parking Structure 5 (enter from Sunset), and Parking Structure 8 (enter from Westwood Plaza). Visitor permit fees for these parking structures are all priced at $3.00/hour through a pay-by-plate pay station or mobile app. They also offer various EV charging options.
About uCLA graduation regalia
Essential regalia for your UCLA graduation photoshoot includes a royal blue with gold trimmed UCLA graduation sash (aka graduation stole) along with a standard black graduation cap, departmental tassel, and gown (undergraduate), or a specialized cap, tassel, and gown, along with an academic hood specific to your degree (masters & Ph.D.).
To have your graduation photoshoot, while it's nice to have everything ready before your photo session, I would recommend having at least your UCLA graduation sash ready before your session date.
For UCLA undergraduates, it is optional (but highly recommended) to have your full cap & gown for your photo session - at minimum, you should have your graduation sash.
For UCLA masters & PhD graduates, it is optional (but highly recommended) to have your full cap & gown for your photo session - at minimum, you should have your graduation sash, academic hood, and cap.
I recommend having the full outfit so you'll be able to get a traditional graduation portrait in addition to your modern-style portraits without the gown. This is an option that will be very popular with family and relatives. Of course, if you would like to keep it simple and not have to carry the full outfit around, the minimum recommendation is perfectly fine too.
Of the royal blue & gold trimmed graduation sashes, there are two designs – a class-specific design and a general "UCLA Bruins" design. The class-specific UCLA design is unique to each graduating class year and will have "UCLA" printed vertically on one side of the sash and "Class of 20XX" printed horizontally on the other side. The UCLA Bruins design will have "UCLA" printed vertically on one side, and "Bruins" printed vertically on the other.
Masters & Ph.D. graduates don't necessarily have the blue & gold sash as part of their regalia since they have an academic hood, but it's still a great option to add to the outfit.
Where to get your UCLA Graduation Regalia
Many of your UCLA graduation regalia outfit items, including the graduation sash and tassel, can be available for purchase in person at the UCLA Grad store, located in Ackerman Union, or online through the UCLA Store. Your department should also contact you during your graduating year to provide instructions on how to order your cap and gown.
For undergraduates, if you would like to schedule your graduation photoshoot before your department is able to provide your cap and gown, you have the option to purchase the cap and gown online through third parties since your cap and gown come in standard black.
The "UCLA Bruins" graduation sash is typically available year-round through the UCLA grad store. However, class-specific UCLA graduation sashes are only available after a certain date as they are custom-made for each academic year. For more information regarding the production timeline, contact the UCLA Grad store via email at gradetc@asucla.ucla.edu or by phone at 310-825-2587.
Visiting UCLA from out of town?
Here are my top recommendations for places to stay while you visit UCLA.
Hotels
UCLA Meyer & Renee Luskin Conference Center Hotel – 425 Westwood Plaza, Los Angeles 90095
Their nightly rates start at $289/night and vary seasonally.
+8555228252
This would be my top recommendation as it's the only hotel located on campus - it's also fairly new with a 4.5-star hotel rating. You can easily access all of campus on foot while staying at Luskin Hotel.